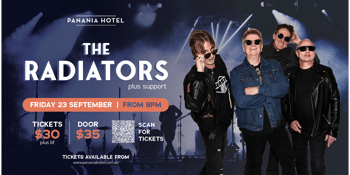 Panania Hotel
The Radiators
Panania Hotel (Panania, NSW)
Friday, 23 September 2022 8:00 PM
Aussie favourites, The Radiators, are hitting the stage at Panania Hotel Saturday 23 September!

Born in the Western Suburbs of Sydney in 1978, The Radiators are one of the best Pub Rock bands in the country! Following their September 1978 debut in Sydney, the RADIATORS embarked on a formidable performing schedule playing over 320 gigs in the first 12 months alone. They soon came to the attention of major record companies and were signed to Warner Brothers late 1979.

The release of their debut album "Feel the Heat" in March 1980, was much anticipated by their many newly won fans and they created history by being the first Australian band to have advanced presales on their debut album. Six thousand copies had been sold before it was even released, "Feel the Heat" went on to achieve Platinum status and a Top 10 position in the charts.

Don't miss out on this legendary band + a fantastic support act and book your tickets now!