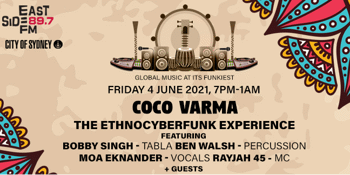 Coco Varma, City Of Sydney & Eastside 89.7Fm
ETHNOCYBERFUNK
Manning Bar (University of Sydney, NSW)
Friday, 4 June 2021 7:00 PM
THE ETHNOCYBERFUNK EXPERIENCE
GLOBAL BEATS AT ITS FUNKIEST
Featuring: Coco Varma, Bobby Singh - Tabla, Ben Walsh - Percussion, Moa Eknander - Vocals, Rayjah 45 – MC / Subtribe
Support Acts: Micheal St George - Jamaican Dub Rocker, Imad Dably – Moroccan Gnawa
DJ's: Papa Boom – Foreigndub, Dj Sheerien – Ancient Booty Beats, DJ Johnah & Prodikal-1 - Global Bass Bounce, MC Benny Blanco - Uk Flava / Orbital Radio
Emerging from lockdown Australia's funkiest Global Beats musos gather at the iconic Manning Bar, Sydney University laneway for a colossal jam of live eclectic electronica.
Dust off those dancing shoes as tribal desert Sufi beatmaker, Imad Dably, conjures transcendent sounds of modern Moroccan Gnawa music alongside the poetic revolutionary reggae of Michael St. George aka Jamaican Dub-Rocker and a stack of Sydney's best DJs.
And if that wasn't enough as nicknamed by Time Out Magazine the, 'Godfather of the Asian Underground', Coco Varma will be performing brand new Eastern Drum'n Bass, Bollywood Breaks and Global House featuring Tabla maestro Bobby Singh, percussionist Ben Walsh, vocalist Moa Eknander and MC Rayjah 45.
Forget international borders are closed and get your rhythm passport stamped as ForeignDub's Pappa Boom, Uber Lingua's DJ Sheerien and true globalist DJ Jonah + Prodikal-1 and MC Benny Blanco bringing a Uk Flava to craft a party playlist handpicked from the best subterranean sound-systems and bass-heavy block parties on the planet. From Senegalese Funk to African Highlife, from Samba Drum'n'bass to Tropical Dub-step and everything in between.
Ethno is for exotic rhythms, Cyber is for blending traditional instruments with live electronica and Funk needs no explanation. There's no doubt an EthnoCyberFunk Experience will easily make your top ten musical experiences.
Info Link, www.facebook.com/ethnocyberfunk