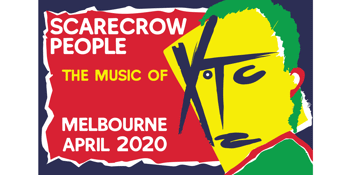 The Fyrefly presents
CANCELLED - Scarecrow People play the music of XTC
The Fyrefly (St Kilda, VIC)
Saturday, 18 April 2020 7:30 PM
SCARECROW PEOPLE play the music of XTC
Hailing from railway town Swindon, England, XTC is responsible for a string of memorable hits from the late 1970s, throughout the 1980s and well into the 1990s – "Senses Working Overtime", "Making Plans For Nigel", "Dear God", "Generals and Majors", "Are You Receiving Me", and "The Mayor of Simpleton" – as well as a plethora of sublime music from 14 albums, celebrated for its brilliance by the initiated but criminally unheard by the public at large. It's not exaggerating to suggest that XTC picked up where The Beatles left off – the songs of Andy Partridge and Colin Moulding really are that great.
Sydney's Scarecrow People is a bunch of 6 or 7 musical maniacs dedicated to the musical marvels of XTC – harmonically dense but melodically immediate, at turns pastoral or compellingly rhythmic. The line-up is something of a collision between Frank Zappa tribute group Petulant Frenzy (three members) and Sydney power-pop heroes The Nature Strip (two members). These are Scarecrow Peoples' first concerts outside of Sydney, where sightings are relatively rare in any case. You are invited to what is guaranteed to be a unique night of musical delights unlikely to be available again in this neck of the woods any time soon.
Reserved Seating $25 + bf
General Admission $ 15 + bf
Any unsold tickets will be available at the door on the night for an extra $5
Doors open/ Dinner: 7:30 PM
The show starts: 8:30 PM

THE FYREFLY
The Fyrefly is St Kilda's superb new dining, music and entertainment room located just down the stairs at Newmarket Hotel. Creature comforts meet sophisticated glamour, with outstanding facilities for the artists to play a huge variety of music styles including jazz, soul, funk, RnB, and even comedy.
OUR DINING EXPERIENCE
Aside from entertainment, an evening at The Fyrefly entails fine dining, top-shelf hooch and classy cocktails. We offer two or three-course dinner & show packages, or you can take your pick from our A La Carte Menu. Our menu showcases only the best locally sourced ingredients guaranteed to delight your taste buds.
CONNECT WITH US
Follow us on Facebook.
Learn more about The Fyrefly on our website.