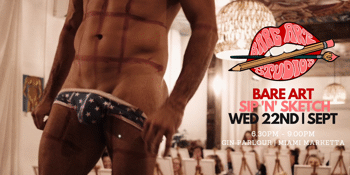 BARE ART
BARE ART - Sip & Sketch
Miami Marketta, Gold Coast (Miami, QLD)
Wednesday, 22 September 2021 6:30 pm
You're invited to Bare Arts' new monthly event...
Bare Art Sip & Sketch at Miami Marketta!
After the huge success of the Bare Art Sip & Paint nights at Miami Marketta, we have decided to add another, but don't worry - it still contains all of the naughtiness!!
The Bare Art Sip & Sketch night will feature a nude male model, but instead of paint - we sketch with a twist.
Everything will be supplied so you can sit back and relax while an experienced art instructor leads you step-by-step through the process of unleashing your inner Van Gogh…
A sexy adult sip and sketch experience that combines a social night of art and a glorious nude model!
18 + Event