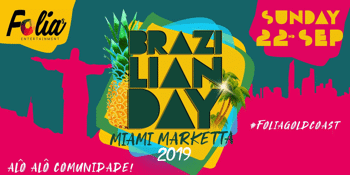 Miami Marketta, Gold Coast (Miami, QLD)
Sunday, 22 September 2019 2:00 pm
Alô Alô Comunidade Brasileira!!!

Brazilian Day Celebration is here!!!
(English below)

🇧🇷
E com muito prazer e entusiasmo que anunciamos Terceira edição do Brazilian Day na Gold Coast.

Estamos preparando um dia com muita;
#Música #Comida e Bebidas Típicas #Arte e Cultura #Danças #Brincadeiras e tudo que estiver ao nosso alcance para trazer o Brasil o mais pertinho de nós.

KIDS ACTIVITIES by ESME CREATION
Gincanas (camp activities)
Brincadeiras tradicionais (kids folkloric activities)
Danca e musica recreativa (dance and music)
Workshop
E muito mais. (Much More)

>> COMIDAS TRADICIONAIS feitas com muito amor e por Brasileiros locais.

Tragam toda a familia e vamos celebrar a nossa cultura popular juntos e festejar do jeito que mais gostamos.

Fique de olho na programação na pagina do evento!
Se preparem, dia 22 de Setembro no Miami Marketta.

Pre-sale early birds $10
Second lot $15
Door $20
**KIDS FREE under 12yrs


KID FRIENDLY.


🇦🇺
Hey Folks,

We are happy to announce that we are bringing Brazilian Day to the Gold Coast on the 22nd of September 2019 from 2pm to 10pm.

A day where all the families can celebrate our culture together with music, dance, art, food, drinks, games and much more.

Everyone is welcome, Brazilians and non Brazilians - come along with the whole family, no age restrictions. Enjoy a taste of Brazil and it's beautiful culture - come and celebrate with us!

Viva o Brasil.
Check the event page for more info.

Pre-sale Early birds: $10
Second lot $15
Door $20
**KIDS FREE under 12yrs

Kid friendly

See you there!