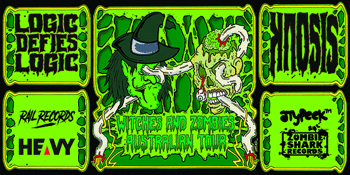 Rail Records, Heavy Mag, Atypeek Music & Zombie Shark Records present
LOGIC DEFIES LOGIC & KAOSIS "WITCHES AND ZOMBIES AUSSIE TOUR"
with special guests
Bendigo Hotel (Collingwood, VIC)
Friday, 5 July 2019 8:00 PM
Rail Records, Atypeek Music, Shark Zombie Records and Heavy Mag present
LOGIC DEFIES LOGIC and KAOSIS
WITCHES AND ZOMBIES TOUR
with special Guests
RAIL RECORDS are taking two of their flagship artists out on the road for a week of live insanity and debaucherous partying. The co-headlining tour is to support the release of
KAOSIS
' terminally ill single
ZOMBIE
(27/05) and
LOGIC DEFIES LOGICS's
haunting party anthem "
RUN WITH THE WITCH
" (03/6).
KAOSIS (NZ)
are what you'd get if
TRENT REZNOR, THE PRODIGY
and
GHOSTMANE
copulated and gave birth to a mutant child in a nuclear fall out shelter.
KAOSIS
bastardize Metal, Punk, Dubstep and Horrorcore into a seething, frothing pit of adrenaline and area a harrowing spectacle to witness live.
It was for their savagely volatile stage performances that got
KAOSIS
curated into the
Dead of Winter Festival
.
KAOSIS
LIVE LINK:
kaosis.video/dubsteppunk-live
LOGIC DEFIES LOGIC (MEL)
are a swaggering tongue in cheek party band dripping with musical integrity.
Logic Defies Logic
is a force of nature; combining metal, rock, soul, funk and whatever else feels good. Imagine
Eddie Van Halen
and
Vinnie Paul
doing speedballs while
Stevie Wonder
makes them bacon and eggs in a space ship and you're getting close. The perfect sonic storm of magic and science.
"
LOGIC DEFIES LOGIC's
musical prowess is unquestioned, but it was their hyper entertaining live shows that got them signed. Hilarity meets virtuosity". Joel Thompson (Rail Records)
LOGIC DEFIE LOGIC
LINK:
rebrand.ly/SuitsandLadders
Special Guests:
Please visit
www.railrecords.net/tour
for information on all the killer guests
LDL
and
KAOSIS
are taking with them on the road.