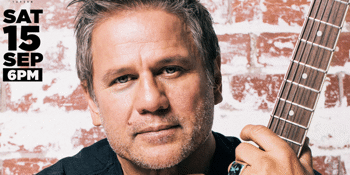 Jon Stevens
The Wharf Tavern, The Helm (Mooloolaba, QLD)
Saturday, 15 September 2018 6:00 PM
Jon Stevens is recognised as one of the most talented rock musicians to emerge from Australia in recent memory.

He has had phenomenal success as a solo artist, knocking Michael Jackson off the top of the charts in Australia, and as the lead singer of major rock acts, Noiseworks, INXS after the death of his friend Michael Hutchence, and the Dead Daisies.

In 2016 he joined forces with legendary musician, songwriter and producer Dave Stewart (of Eurythmics) to record a new album, Starlight.

With his mojo fully intact, Stevens stands virtually alone in the music scene, with a raw vocal power that won him attention first as a teenager and now as a veteran singer and songwriter. Time has toughened his delivery while tapping into his emotional wellsprings more than ever before.

Don't miss him live in the heart of Mooloolaba at The Wharf Tavern for an intimate, acoustic show in River Bar. Show only and Dinner & Show tickets on sale with very limited tickets available!