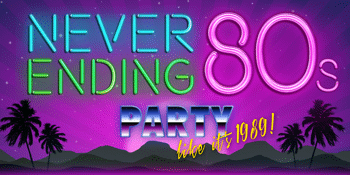 Never Ending 80s - Turn Back Time To '89
Hamilton Hotel (Hamilton, QLD)
Friday, 6 September 2019 8:00 pm
Never Ending 80s Presents... 'Turn Back Time To '89!
Come celebrate this awesome year of smash hits with us as we literally 'Turn Back Time To '89!'
What a year in music!!!
Join us and you'll be sure to express yourself like a prayer and get the look of Roxette. Walk 500 miles to be on your way and proclaim you've got the right stuff, just like any new kid on the block should. All this as you head to a place called Kokomo... 'cause baby you don't care!
Don't worry... we won't be forgetting about other killer 80s tunes either. With a show jammed full of 1989's finest, we'll still be throwing in the big NE80s dance floor fillers as well.
Grab your tickets now and don't forget to 'dress for success'!

**Please note Level 1 - 442 Kingsford Smith Drive - No lift or wheel chair access to top floor in venue. No disabled facilities on this level**