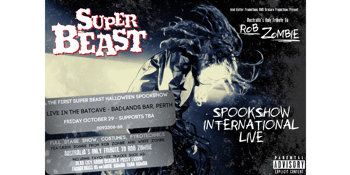 Mad Hatter Productions & Drakoru Productions present
Superbeast- The Halloween Spookshow
Friday, 29 October 2021 8:00 pm
Halloween conjures up many images, from scary movies and costumes for a trick or treat, to witches around cauldrens or the misty eeriness of a silent graveyard. One thing is for certain, a halloween celebration would not be complete without a gruesome, Shookshow spectacle.
Coming back to the Batcave, Australia's ONLY Tribute to ROB ZOMBIE are back in Western Australia and are ready to question if you are More Human Than Human or if you are indeed a SUPER BEAST.
Their last show at Badlands Bar, Perth was SOLD OUT and with this being an exclusive one off Halloween show, we know The Spookshow sell fast.