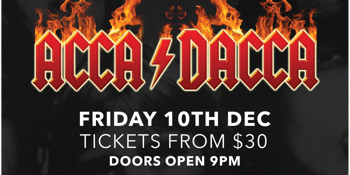 ACCA DACCA Live at The Cavill
The Cavill Hotel (Surfers Paradise, QLD)
Friday, 10 December 2021 9:00 pm
The Cavill Hotel presents ACCA DACCA, the ACDC tribute show

A not to be missed night of live entertainment, ACCA/DACCA will take to the stage for a massive 2 hour set taking you on a journey from the humble beginnings of the legendary band through the Bon Scott era as well as the many highlights with Brian Johnson at the helm.

Having spent over 21 years touring Australia and internationally, ACCA DACCA have survived the test of time as one of the longest running and most well known AC/DC tribute shows.

GET YOUR TICKETS NOW!