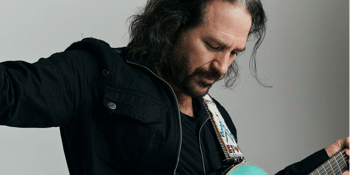 Rosemount Hotel (North Perth, WA)
Monday, 16 March 2020 6:30 pm
It would be selfish of us to keep bands of the calibre of those performing at Melodic Rock Fest 2020 to ourselves, so in keeping with demand Shout Out Loud Entertainment is pleased to announce a string of side shows across the nation.
Kip Winger (acoustic) and XYZ will be performing at The Rosemount Hotel, Perth on Monday 16th March 2020 with special Guests WA's very own RAGDOLL.

KIP WINGER (plugged-in acoustic)
"Kip Winger is one of the best writers of the past three decades. The quality never dips. From his own solo stuff through to the Winger hits" - Classic Rock Magazine
Kip's eponymous band Winger has sold millions of albums and charted Top‐40 radio singles, such as 'Can't Get Enuff', 'Headed For A Heartbreak', 'Miles Away'. Early in his career, he toured as a bass player with rock legend Alice Cooper and contributed bass and vocals to his albums 'Constrictor', 'Raise Your Fist And Yell' and 'Trash'. He has also performed and recorded with numerous artists, including Alan Parsons (as the lead singer for Alan Parsons' Live Project), Roger Daltrey, Bob Dylan, and Twisted Sister. Kip has released 4 albums as a solo artist and 1 Grammy-nominated classical album. As part of Melodic Rock Fest 2020, he will be performing a powerful plugged-in acoustic show comprised of Winger hits and fan-favorite solo songs, along with his original percussionist from all his solo albums, Robby Rothschild.

XYZ
After starting out as the unofficial house band at the infamous Whisky A Go-Go club in Las Angeles, XYZ released debut album Enigma in 1989 which featured the songs 'Inside Out' and 'What Keeps Me Loving You'. After a less than favourable reaction to that and its follow up Hungry,after having time off to follow up on seperate projects XYZ Returned with Letter to God in 2003. Since then the band has cemented their standing as one of the leading exponents of hard rock/glam, selling more than 2 million albums worldwide and touring with Ozzy Osbourne, Foreigner, Soundgarden, Alice Cooper and Cheap Trick. They are a band with energy to burn and a strong desire to entertain and hit Melodic Rock Fest on their 20th Anniversary tour featuring the original line-up.