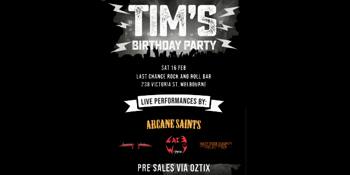 THRS Radio presents
Arcane Saints
with Warbirds, Lace and Whiskey + Eat The Damn Orange
The Last Chance Rock & Roll Bar (North Melbourne, VIC)
Saturday, 16 February 2019 7:30 pm
It's Tim from the Hard Rock Show's birthday and it's time to celebrate!

Come down and party at an iconic Melbourne venue.

Featuring performances by some of Melbourne's best bands - Arcane Saints, Warbirds, Lace and Whiskey and Eat the Damn Orange, it's a night you won't want to miss!