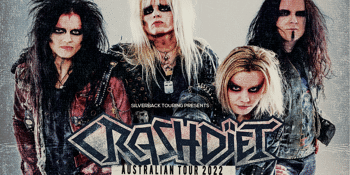 Silverback Touring presents
Crashdiet
with Sisters Doll
Prince Bandroom (St Kilda, VIC)
Friday, 7 October 2022 8:00 pm
Get set for a wild ride on the Glam, Sleaze and Hair Metal rollercoaster as Silverback Touring brings together Swedish hellraisers CRASHDIET, L.A. Glam legends PRETTY BOY FLOYD and local Glamsters SISTERS DOLL for a night of utter chaos.
"Go big or go home" is a phrase we've all muttered, shouted, or heard multiple times in our lives. For Swedish hard rockers CRASHDIET, it has been the motivational catch phrase since they started out back in the beginning of 2000.
As fans who have followed the band know, the band has gone through a bit of turbulence in their career, with deaths, line-up changes, and a history of substance abuse that would make some legendary '80s hard rockers blush.
However, the boys have also become known for picking up the pieces and returning to the fight every time they get knocked down. Their undeniable mixture of '80s arena rock with notable elements of punk has made them a significant name in the revival of the sleaze and glam (or hair metal) genre. CRASHDIET released their critically acclaimed debut album Rest in Sleaze in the fall of 2005 through Universal Music, giving them a springboard to success in their home country of Sweden, which then spread like wildfire across the globe. In September of 2019 they released their fifth studio album Rust.

Back in the late 80's NYC guitarist Kristy Majors hooked up with west coast front man Steve Summers and laid the foundation for their dream band. They worked, wrote songs and played and played and played. The band chose the name PRETTY BOY FLOYD because it seemed to describe them; 4 tough teens armed with guitar licks and
teenage angst who set out to conquer the world.
The group signed to MCA records and released Leather Boyz with Electric Toyz, an album whose very name was a tongue-in-cheek tip of the hat to their glamorous heroes – Sweet, Kiss and The New York Dolls – all the bands who believed that rock music wasn't just music. The Howard Benson-produced album made a significant impact, being named one of the hottest albums of its genre by Metal Edge and Spin magazines. PRETTY BOY FLOYD also landed on the cover of the then metal bible Kerrang!

Two Top 20 videos 'I Wanna Be With You' and 'Rock and Roll is Gonna Set the Night on Fire' hit MTV when it was the hot place to be. The band toured the world and was recognized as the kings of the Sunset Strip, breaking attendance records held by Van Halen and Warrant. Their album would go on to sell 750,000 copies worldwide. It's now 2020 and PRETTY BOY FLOYD are still flying the glam flag higher than ever. PRETTY BOY FLOYD will be performing their infamous debut album in full as they return to Australia for the first time in over a decade.
Rounding out the bill are Melbourne glam rockers, SISTERS DOLL, who have developed a solid reputation for their explosive live show, showmanship and enjoy one of this country's most fierce and loyal followings.


This is a Covid Safe event and there are a few things we need you to know before you arrive:
PLEASE DON'T COME if you feel sick, if you've been in contact with a person who has been diagnosed with coronavirus (Covid-19) or if you have travelled overseas or to a coronavirus hotspot in the last 14 days. Contact Oztix - we will refund your ticket.
BRING A MASK — if you are unable to socially distance, it will offer you protection.
A strict NO QR CODE, NO ENTRY policy applies at our venue. We use the Service Vic App QR code and you will have to show a Security Guard YOUR GREEN TICK at the door ​to enter the venue.
​Your TICKET WILL BE SCANNED at the Box Office and matched to the detail input at the time of purchasing your ticket. This data will be kept for 28 days to facilitate Track & Trace.
Download the App now for iPhone
Download the App now for Android
5. NO MOSHING and NO CROWD SURFING. Patrons who kick off will be removed from the venue. We're really sorry about that, but we're in a pandemic and we want to STAY OPEN.

Do your best to remain socially distanced and practice good hand hygiene. If you feel sick at the event, please report immediately to the Box Office so we can do a first aid assessment and get you home safely.
Max Watt's will be operating under the Victorian State Government vaccination mandate. Therefore, as outlined in the Victorian Roadmap, only patrons, staff and artists who are double vaccinated against Covid-19 will be able to enter the venue. This is for the safety of all that attend.

Customers are required to check-in via the Service Victoria App with a valid Vaccination certificate as they enter the venue.

Only Government Approved Exemptions will be accepted.