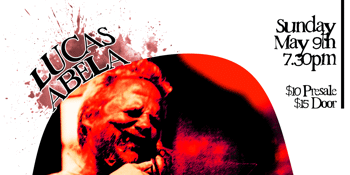 The Last Chance
LUCAS ABELA / KLAVIERKRIEGER/ MALTESE WELL MONSTER / ANOCHT
The Last Chance Rock & Roll Bar (North Melbourne, VIC)
Sunday, 9 May 2021 7:30 pm
LUCAS ABELA .:. KLAVIERKRIEGER .:. rituale de sangue
Lucas Abela (ex-Justice Yeldham) returns to Melbourne for the first time since Halloween 2019.
For the uninitiated, NME has described his shows as "crossing the line between music and bloodsport". Using only a piece of glass as the conduit, Abela channels his voice to create an unholy cacophony of pain, pleasure and platelets.
With KLAVIERKRIEGER, Maltese Well Monster and Fina Po, and Anocht as support acts.
===========
Enter at own risk.
===========
KLAVIERKRIEGER .:. manifests paradoxa erga as blackened ritual antiphon .:. seraphic oscillations and hellnoise conflagrations .:. the ethereal hallucinatory reverie .:. the macabre and terrifying reality .:. no identity as the only constant .:. only .:. being to embrace the void .:,
MALTESE WELL MONSTER (Curse ov Dialect) and FINA PO will convey their unique amalgam of maximalism, plunderphonics, avant-garde hip hop and performance art in typically mindbending fashion.
ANOCHT will be performing an initiatic rite of experimental black metal performed completely in Gaelige, with bleak and dark sounds evoking the long dark Irish winters and rugged, beautiful landscapes.
===========
Presale tickets; $10+BF
Flyer courtesy of Brian O'Dwyer (Sniff Sniff Studio)