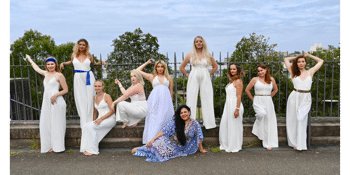 Palais-Hepburn
Mamma Mia The Concert
Palais - Hepburn (Hepburn Springs, VIC)
Sunday, 27 June 2021 7:30 PM
⚜️Sunday, June 27th
⚜️Genre:
⚜️Tickets $25 Door: $30
⚜️Dinner and Show. $90, Includes guaranteed seating.
⚜️Doors open: 7pm. On Stage: 8pm
⚜️Dinner Pre show: 6:30pm, 6:45pm, 7pm, 7:30pm. Doors open: 7:30pm
Show: 8:30pm
Visually pleasing! Artistically clever! vocally exciting!
Celebrating 15 years of touring, Australia's very own Ten Sopranos bring to Australian audiences a masterful and stimulating performance of the ABBA repertoire in a memorable concert which includes new vocal and symphonic harmonies. You'll be singing, dancing or simply enjoying what is the number one vocal interpretation of the ABBA songs in the world today.
The glorious melodies and harmonies are re-invigorated and given new life by this most powerful all female group in Australia The Ten Sopranos!
Artistic and Musical director Penny Pavlakis (Internationally acclaimed and, multi-award-winner known to her peers as "The Singers' Singer" brings to the stage star power very few people can) along with The Sopranos, bring their supreme talents to Australian audiences in a concert of epic proportions paying homage to the magnificent songs of ABBA. This is a feel-good concert you won't want to miss!
What they said!
It is impossible for you not to be mesmerised
(The Pictorial)
If you only see one show this year, this has to be it
(The Advertiser)
Pavlakis has no peer on the world stage, whether its classical or contemporary, she
really is magnificent
(Maestro Tommy Tycho)
I've managed performing arts centres for 14 years and this concert rates as one of the
best I've ever seen
(Ross Le Clerc, venue manager)