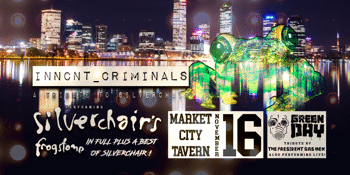 Inncnt_Criminals - A Tribute to Silverchair
Silverchair and Green Day Tribute @ Market City Tavern
Market City Tavern (Canning Vale, WA)
Saturday, 16 November 2019 7:00 PM
Want some Silverchair and Green Day...?
We are coming to rock the Market City Tavern Saturday 16th November 2019.
——————————————————————
Silverchair's 'Frogstomp' Album
Performed in full by Inncnt_Criminals
+ Silverchair's Greatest Hits
One of Australia's most successful rock bands - Silverchair - released their hard-hitting debut album 'Frogstomp' in 1995. Daniel, Ben & Chris were only 15 years old at the time, and the album captures the raw teen angst of the grunge era.
Featuring their first breakout track 'Tomorrow', plus fan faves 'Israel's Son' & 'Pure Massacre', Frogstomp reached #1 on the ARIA charts and established Silverchair as a force to reckoned with.
Inncnt_Criminals will be performing the album IN FULL - plus a second set featuring Silverchair's Greatest Hits!
♠️♠️♠️♠️♠️♠️
We also will be bringing our friends from The President Gas Men who will bang out a set of GREEN DAY classics.
🤘🏼🤘🏼🤘🏼🤘🏼🤘🏼🤘🏼