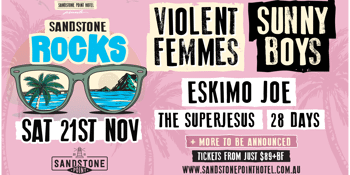 Sandstone Point Hotel present
Sandstone Rocks
feat. Violent Femmes, Sunnyboys, Eskimo Joe, The Superjesus & 28 Days
Sandstone Point Hotel (Sandstone Point, QLD)
Saturday, 21 November 2020 12:30 pm
THIS EVENT ON SAT 21/03/2020 HAS BEEN RESCHEDULED TO SAT 21/11/2020.

Announcing the return of Sandstone Rocks featuring one of Sandstone Point Hotel's biggest lineups to date. Performing on the waterfront is Violent Femmes, Sunnyboys, Eskimo Joe, The Superjesus, and 28 Days.

Finding immediate success with the release of their self-titled debut album in early 1983, American folk punk band, Violent Femmes set off on a career of epic proportions. Featuring hits "Blister in the Sun", "Kiss Off", "Add It Up" and "Gone Daddy Gone", Violent Femmes became the band's biggest-selling album which was eventually certified platinum by the RIAA.
Violent Femmes went on to become one of the most successful alternative rock bands of the 1980's, selling more than 9 million albums by 2005.
Violent Femmes will be touring in 2020 after releasing their new 10th studio album 'Hotel Last Resort' and co-headlining Sandstone Rocks.
Joining Hoodoo Gurus and Violent Femmes is Australian alternative rock band, Eskimo Joe performing popular hits "Black Fingernails, Red Wine", "Foreign Land" and "Love is a Drug".
Supporting the already rockin' lineup is Aussie rock band and ARIA award winners The Superjesus known for songs "Down Again", "Gravity" and "Now and Then". Australian punk rock band 28 Days will also be live at Sandstone Rocks bringing songs like "What's the Deal?" and "Goodbye" to the stage.
"Events at Sandstone Point Hotel sell out more often than not, it is such a unique concert venue and it's no surprise people love returning. We were most recently the first Red Hot Summer venue in Australia to sell out and with such a big lineup for Sandstone Rocks in 2020, I don't doubt tickets will be in high demand again. I am really looking forward to seeing the response and talent on the day!"
Set on Sandstone Point Hotel's rolling greenery with a stunning waterfront backdrop, there is no better place to enjoy the sounds of some of the country's biggest talent. With shows at Sandstone Point Hotel more often than not selling out, it is expected that tickets will go quick!