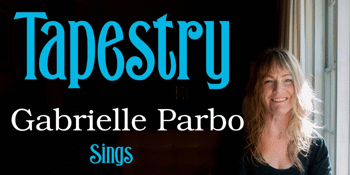 The Fyrefly
Gabrielle Parbo - Tapestry
The Fyrefly (St Kilda, VIC)
Saturday, 23 November 2019 7:00 PM
Be swept back to the psychedelic 70's with the hit songs of four of the most influential female singer-songwriters of the era.
The TAPESTRY show weaves together the songs and stories of Carole King, Carly Simon, Rickie Lee Jones and Joni Mitchell; amazing women whose lives were connected by
more than just music.
Feel the earth move with this three piece band featuring
GABRIELLE PARBO performing the songs of
Carole King, Carly Simon, Rickie lee Jones and Joni Mitchell
The hits that captured the essence of an explosive
and important era of change
So where were you?
The TAPESTRY Band - We lived it, loved it, and now delight in celebrating the lives and achievements of these powerful and honest female artists!
Find out the secrets and relive the memories of a magical time.
And did anyone mention James Taylor ?
This is one show not to miss.
Premium Reserved Seating $ 28.00 + bf
Reserved Seating $22.00 + bf
Any unsold tickets will be available at the door on the night for an extra $5
Doors open/ Dinner: 7:00 PM
The show starts: 8:30 PM

THE FYREFLY
The Fyrefly is St Kilda's superb new dining, music and entertainment room located just down the stairs at Newmarket Hotel. Creature comforts meet sophisticated glamour, with outstanding facilities for the artists to play a huge variety of music styles including jazz, soul, funk, RnB, and even comedy.
OUR DINING EXPERIENCE
Aside from entertainment, an evening at The Fyrefly entails fine dining, top-shelf hooch and classy cocktails. We offer two or three-course dinner & show packages, or you can take your pick from our A La Carte Menu. Our menu showcases only the best locally sourced ingredients guaranteed to delight your taste buds.
CONNECT WITH US
Follow us on Facebook.
Learn more about The Fyrefly on our website.