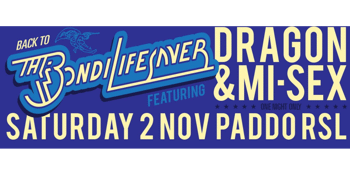 Paddo Lounge (Paddington RSL) (Paddington, NSW)
Saturday, 2 November 2019 7:00 PM
Party like it's 1979 when the bastions of Oz Rock, albeit from across the ditch – Dragon & Mi-Sex – raise the ghosts of The Bondi Lifesaver for one night only – Paddington RSL on Saturday 2 November.

The Australian music scene exploded throughout the 1970s. From the outset, Masters Apprentices, AC/DC, Daddy Cool, Billy Thorpe & The Aztecs, Spectrum, Little River Band, and many more laid the foundation for artists that would come to define the Australian cultural landscape; including Skyhooks, Sherbet, Ted Mulry Gang, Cold Chisel, Rose Tattoo, The Angels, Kevin Borich, Radio Birdman and The Saints, among others. These were the days before Countdown – this was the Sydney scene.

Affectionately known as 'The Swap', The Bondi Lifesaver was an iconic bastion of the Sydney scene for the entire decade; from when it opened its doors in 1971 until it closed, for good, on the 31st of August 1980. It attracted the absolute cream of the scene, from Johnny O'Keefe to Rene Geyer, Richard Clapton to Bo Diddly, Split Enz to INXS, Mi-Sex and Dragon. As the story goes, the members of Dragon lived next door to the venue, at 36 Ebley Street, Bondi Junction, so became the house band for a time.

The cacophony of Kiwi artists who jumped ship and travelled to our shores throughout the 1970s is not lost to the Australian music, political and cultural landscape; among them, from the era, are Dave Dobbyn, Jenny Morris, Sharon O'Neil, Split Enz, Mi-Sex and, of course, Dragon.

Promising 'Rainy Traffic Light Moments', if not channelling the old tropical fish tank too, Dragon & Mi-Sex bring back the Bondi Lifesaver to Paddo RSL, with the promise of a party like it's 1979. So why not get a bunch of friends together, plays 'swaps' and come down? Sing the songs that are the soundtrack of our lives.