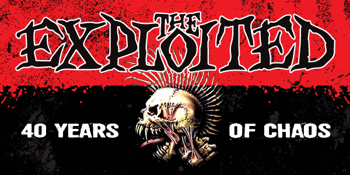 David Roy Williams presents
POSTPONED - The Exploited
with Roach Bones
Rosemount Hotel (North Perth, WA)
Sun 29 March - Thu 1 October 2020 8:00 PM
IMPORTANT UPDATE:
The Exploited were excited to be performing for Australian fans over the next two weeks, but this is no longer possible.
The band are currently in New Zealand and the newly implemented 14 day self-isolation mandate means every date on the upcoming tour would be missed.

The Exploited's commitment to their fans remains and they WILL be back.
We encourage ticketholders to retain their existing tickets as these dates will be honoured for rescheduled shows.
The new dates will be worked through with the band, venues and management over the coming days.


PUNK'S NOT DEAD… EVER!!

1979, and Wattie Buchan and his mates were seriously pissed off. Angry at what was happening around them - a country in disarray, greedy politicians treating the people like shit; and with Johnny Rotten's prediction of "No Future" truer by the day, there was only one way forward – embrace the music that had given you so much and give it something back… your entire life!

The Exploited continue to deliver the mayhem live – 'Sex and Violence', 'Army Life', 'Fuck The USA', 'Troops Of Tomorrow', 'UK '82' and 'Cop Cars' represent just a taste of the anarchy that the Exploited bring to every show.

The Exploited are just as relevant today as they were in 1979 and with the band's loyal squadron of fans The Barmy Army in tow, The Exploited are set to unleash 40 years of fury, anarchy and chaos upon Australian and New Zealand.