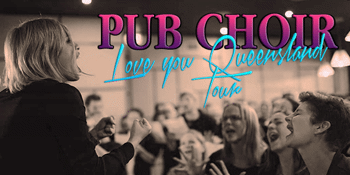 Proudly sponsored by Multicultural Queensland Month
Pub Choir - Love You Queensland Tour
Great Western Hotel (Rockhampton, QLD)
Monday, 26 August 2019 6:00 pm
The hottest live act in Australia is finally hitting the road. Get ready for Pub Choir's "Love You Queensland" tour!
Singing is something that makes us human. We do it in our cars, in the shower, at birthday parties… but not a lot of us feel comfortable singing in public. Well, Pub Choir is on a mission to change that.
From August 4th – 26th, Pub Choir will travel to ten regional locations across Queensland to spread the message that 'we're all in this together'. Bringing their eclectic and electric show that is equal parts comedy, beer, and musical genius, Pub Choir are here to prove to Queenslanders that singing belongs to everybody.
Proudly sponsored by the State Government as part of their annual Multicultural Queensland Month celebrations, Pub Choir will present their Love You Queensland Tour in Charleville, Longreach, Winton, Mt Isa, Port Douglas, Cairns, Mission Beach, Townsville, Mackay, and Rockhampton.
Audiences across Queensland will be transformed from merry punters into a formidable choir, as they are guided to greatness by Pub Choir's legendary presenters, Astrid Jorgensen, Waveney Yasso, and Megan Bartholomew.
Be part of something historic. Pub Choir's expert team will film at each location, and compile all the performances together into one glorious video production that features the diversity and uniqueness of Queenslanders.
Pub Choir has performed alongside members of Powderfinger, Regurgitator, Killing Heidi, The Living End, The Go-Betweens, The Cat Empire, The Grates and Ball Park Music. They are feature on the line up of 2019's Splendour In The Grass.
Come and see what all the fuss is about! Simply purchase a ticket, and open your sound hole (your mouth FYI).