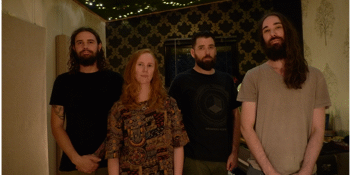 Birds Robe Records presents
Tangled Thoughts Of Leaving
with special guests Skullcave, Gazey & Filth Goddess
Saturday, 23 March 2019 8:00 pm
Tangled Thoughts of Leaving headline Badlands Bar on March 23, supported by Skullcave, Gazey and Filth Goddess.
Don't miss TToL's first gig of the year and the debut of incredible new drummer Gracie Smith! With tours on the horizon it's time to warm up the hometown vibes and throw a huge party, supported by some of the Perth's most inventive and powerful bands.
____________________________________
2018 was a turbulent year for TToL. In June they released their third album No Tether to critical acclaim but would not play any released material for the rest of the year. Long time drummer Ben Greene announced his departure from the band and Gracie Smith was announced as the new drummer. In 2019, the band is whole once more and is set to tour Australia with Russian Circles in April, plus play the legendary Dunk! Fest (Belgium) in June. Months of rigorous rehearsals has the band sounding aggressive and adventurous. This show promises to be an overflow of emotions with a set list spanning across a huge slice of back catalog.
-
https://tangledthoughtsofleaving.bandcamp.com/
___________________________________
Skullcave are a dominant live force, delivering massive slabs of post metal and doom coupled with catchy vocals and tranquil instrumental sections. In 2018 they released their debut album FEAR on the heralded Art As Catharsis label, and are set to follow it up with the upcoming release of new single 'Offend, Repeat'.
-
https://skullcave.bandcamp.com/
___________________________________
Gazey are one the most exciting emerging bands out of Perth. Drenched in synths and armed with a unique sense of playfulness and creativity, they defy convention whilst remaining familiar like a warm lofi memory.
-
https://gazey.bandcamp.com/album/moon-society
__________________________________
Filth Goddess are a doom duo after your soul. Rituals of sound and light wash over you as endless walls of texture roll ever onward. Sometimes things sound warm and inviting and other times noisy and hostile. Get down early and be cleansed by sound.