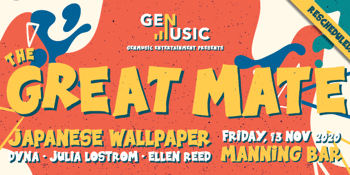 GenMusic Entertainment present
The Great Mate
Japanese Wallpaper, DVNA, Julia Lostrom & Ellen Reed
Manning Bar (University of Sydney, NSW)
Friday, 13 November 2020 8:00 PM
The Great May 8 - a concert on the right date to celebrate Australia's diversity in culture and music.

With some of the most fair dinkum talent brought to you from down under, GenMusic Entertainment is bringing you a line up that's bound to have Manning Bar chockers. Choosing Friday May 8 as the day to get down – we're keeping all our Australian mates in mind by being as inclusive as we can.

Headline artist from Melbourne, Japanese Wallpaper wouldn't describe his music as 'ambient' per se, JW has the kind of music that could pacify a ferocious lion. Soothing vocals accent a production style that is just as unique as it is cohesive and flowing. His visual branding is equally fitting, featuring calming brushstrokes of rich pastels and deep primaries. With music like a dreamscape for the inner-self, JW is more than just your average hypnotic electro-pop musician.

From North, DVNA is coming at you 'looking like a snack' and bringing a whole lot of feels with her. Starting out as a bedroom project from Gold Coast, expressing herself with unique lyrics to racking up over 500,000 Spotify streams, debuting on the Triple J Unearthed charts, this finalist for the Triple J Unearthed DMAs Remix competition is sure to have your jaw hit the floor with her single 'Sushi In Tokyo' - inspired by Mac Miller's "What's The Use".

Julia Lostrom, a singer-songwriter with a Zambian and Greek upbringing, representing Australia's multiculturalism. You will recognise these killer performers from the Triple J Unearthed Charts. Sharing the stage will be Ellen Reed - comes into the music industry flaming red hot, with a raw set of lyrical vocals and a mesmerising performance to match.

If you live out in the middle of woop woop, it's time to grab ya esky, chuck a sickie and make your way into town at the MANNING BAR at USYD because we've got a ripper of a night for you!