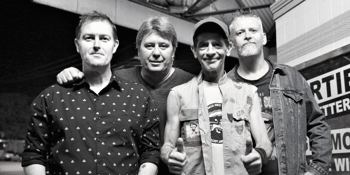 Spy v Spy
Urban Guerillas
Friday, 6 September 2019 8:00 PM
Spy v Spy, the socially conscience band that has been around since the early eighties.
Fast forward 30 years, Michael Weiley has itchy fingers and wants to get back to what he does best - playing guitar live.
Michael talks about seeing the original drummer Cliff while catching a train from Central Station and longs to reunite the magic they shared in the early days.
The message is sent out and Cliff replies a couple of years later. Soon Cliff is back on the skins, providing the missing heartbeat to the band.
Their last show together on stage was to a sold-out crowd with Michael's final wishes for the band to continue playing Spy v Spy music live.
The Spy's live show is like being hit by a truck. The songs Injustice, Hard Times, Soldiers, A.O, Credit Cards, One Of A Kind, Don't Tear It Down come at you hard and fast. It's music with a message, an experience in musical nirvana.
The new line up is:
Cliff Grigg - Original Drummer
Dean Reynolds - Lead Vox
Andrew Davis - Lead Guitar
Cam Hallmen - Bass