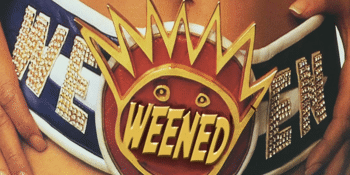 The Evelyn Hotel presents
Weened 'Chocolate & Cheese' 25th Anniversary
2 SETS
The Evelyn Hotel (Fitzroy, VIC)
Friday, 20 September 2019 8:30 pm
Featuring Australia's premier Ween Tribute, Weened.


In September 1994 iconic American rock band Ween released their seminal Chocolate and Cheese album, which to this day is not only widely regarded as their best work, but one of the greatest alternative rock albums in history.

On September 20th, 2019 Australia's Premier Ween Tribute – Weened, will play at the legendary Evelyn Hotel (the very same venue Ween played two sold out shows at on their Chocolate & Cheese world tour) and celebrate Ween's monumental legacy by playing over 2 hours of Ween hits and fan favourites, including performing the Chocolate & Cheese album in its entirety to celebrate the landmark album's 25th Anniversary.

Originally formed in 2011, Weened are held in high regard for their high energy & authentic performances. They have played many of Melbourne's best rock venues and now pay homage to Ween at The Evelyn.