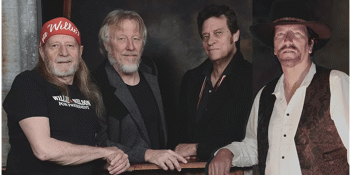 The Pub Group
CANCELLED - 4 Highwaymen
Longyard Hotel (Tamworth, NSW)
Monday, 17 January 2022 8:00 pm
4 HIGHWAYMEN RETURN TO THE 50TH TAMWORTH COUNTRY MUSIC FESTIVAL
AND ARE CELEBRATING THEIR 10th YEAR PERFORMING AT THE LONGYARD HOTEL'S ICONIC GOONOO GOONOO ROOM
Back in 1985 country music superstar friends Willie Nelson, Waylon Jennings, Johnny Cash and Kris Kristofferson got together and recorded their first album titled "The Highwaymen" which then became the signature name for this supergroup of stars.
Australia's own 4 HIGHWAYMEN Bruce McCumstie (Willie), Alan Bowles (Johnny) and Bryen Willems (Kris) and Chris Callaghan (Waylon) return to the Longyard stage this coming January for their ten year anniversary at that venue, presenting their salute to those four legendary country superstars.
Along with their band, these four talented Australian country artists will re-create memories of the original Highwaymen tours - often referred to by patrons who had seen the original Highwaymen, as "the closest thing you will ever see and hear to the originals".
4 Highwaymen invite you to join them at the Longyard Goonoo Goonoo Room, in January 2022. Their repeat performances over the past ten years are usually sell-out shows so get in early and book your ticket/s to avoid missing out.