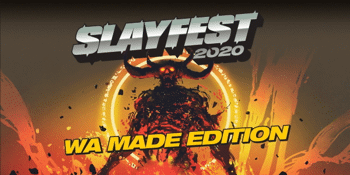 SLAYFEST 2020 - WA MADE EDITION
Saturday, 19 September 2020 6:00 pm
After taking a king hit from Covid in March, SLAYFEST rolls up the Sandgroper sleeves to announce the WA MADE EDITION at BADLANDS BAR in PERTH on SATURDAY 19 SEPTEMBER 2020.

Featuring 16 of Western Australia's finest exponents of sonic brutality, plus Karaoke, Metal Militia DJ's, Food Truck tucker and head bangin' vibes, Perth's annual metalfest SLAYFEST is primed to deliver another massive night of heavy music for live music fans in the west.

The feast of WA MADE live acts set to blow the roof off Badlands are:

Perth metal legends PATHOGEN, return to stage after their belting out reunion sets at Slayfest 2019 and And Metallica For All Tribute Night in 2019 … this time they're back to headline one hell of a Bush Chook, metal lovin' shindig!
www.facebook.com/pathogenofficial | Established 1995

Eternal champions of Perth power metal, BLACK STEEL formed in early 2000, comprising members from some of WA's most respected bands - Dave Harrison (ex-ALLEGIANCE), Jamie Page (ex-TRILOGY/BLACK ALICE). BLACK STEEL continue the tradition of classic heavy metal music to this day, with an ageless emphasis on high calibre musicianship, strong melody, double kick drumming, soaring vocals, big choruses and dual guitar soloing.
BLACK STEEL have toured & played on line-ups with many of the genres biggest names in metal including Deep Purple, Judas Priest, Black Label Society and Metallica
www.facebook.com/pg/blacksteelband| Established 2000

WA industrial death metal legends INFECTED reunite for their first show in a decade at SLAYFEST. Producers of inspired and innovative death metal, INFECTED were genre stand outs in Australia during the 90s, churning out sounds rivalling the likes of Godflesh and early Fear Factory.
The band reformed in the early 2000s to record a new single 'Straight White God' and perform a series of reunion shows, culminating in 2010 with the re-mastered re-release of their seminal debut album 'Crawlspace'. Now in 2020 they return for a very special one-off performance at SLAYFEST.
www.facebook.com/pg/infectedaustralia| Established 1991

Perth's enigmatic prog-metallers CHAOS DIVINE, are primed to fire up on the back of their recent single release "False Flags" and deliver a trademark set of uncompromising arrangements, crushing heavy riffs and soaring melodies that's seen them win over fans across the world.
With a suite of industry accolades, national and international tours, and appearances at major music festivals under their belt, CHAOS DIVINE have carved out an impressive reputation for delivering a powerful and dynamic live show.
The band has played alongside some of the biggest names in rock and metal including Slayer, Mastodon, Tesseract, Animals As Leaders, Arch Enemy, Katonia, Between The Buried And Me, Fear Factory, Trivium and many more. Earlier this year the band joined the likes of The Ocean, Monuments and Skyharbor for the reputable Progfest national tour.
www.facebook.com/chaosdivine | Established 2006

Formed in early 2013 in Perth, SANZU is a unique beast that has unleashed heavy music in a way that utilizes diversity and originality that doesn't cause itself to stray too far from its death metal foundation. SANZU has formed a unique presence. Guitar riffs like melodic saw blades meets savage bass along with powerful drumming to form a rhythm section that thunders and grooves in unison with unrestrained vocal assaults close to a beast made of GOJIRA and earlier MORBID ANGEL.
www.facebook.com/SanzuOfficial | Established 2013

Fremantle metal veterans VANADIUM B.C need no excuse to thrash out their timeless brand of "Pure Australian Metal".. let alone joining a line-up of WA's finest and one of the state's finest live music venues. The legend of WA thrash continues!
www.facebook.com/pg/vanadiumbc | Established 1993

Perth's TEMPEST RISING have established themselves as one of Australia's most unique and individual Alternative Metal Acts, blending hard hitting groove laden riffs, soaring choruses and fast past thrash with a unique vocal style. Having recently returned from their tour of Europe, the band's set burn up the stage at SLAYFEST for the very first time this September
www.facebook.com/tempestrisingofficial | Established 2012

Hailing from two locations steeped in battlefield glory in the locations of Ccwwennclyck out in the craggy hillsides of Wales and Angelruppen (just south of Nifelheim) in Germany, yet often found only a 5 minute drive from Whitfords shopping centre, those "Balls Out Battlers From The North" BATTLESWORD STEELMASTER are five of the most electrifying men in live music entertainment. BATTLESWORD STEEL MASTER return to SLAYFEST in the name of Codpiece slaughtering power metal, and with only 2 things in mind... to steal your horses, and your to confiscate your mead.
www.facebook.com/BattleswordSteelmaster | Established 2019

Formed in Perth, 1996 and releasing a self-titled album in 1997, PLAGUE terrorized the scene with brutal and menacing live performances and gained reputable following. After years of extensive shows and working on new material, their sophomore album 'Higher Moral Ground' was released in 2005.
A well received and unique release that gained Plague national recognition, which led them onto tours around Australia playing alongside some of the finest metal bands on offer.
Dissipating as a band in 2008, Plague has remained dormant until now. With old and new material perfected and refined, blistering grooves and technicality defined. Plague returns with a fresh new line-up ready to slay in 2020
http://theaussieplague.tripod.com| Established 1996

One of Perth longest standing metal band... DETHLAHEM, have played countless shows and drank even countlesser beers alongside bands such as Pagan and Choke to Enforce and Psychonaut to Depravity and Plague to Nails of Imposition and Coldfate.
There has been more than a few members come and go over the years. Throughout all the changes and the ups and downs, the band has always carried on. Now armed with a new line up and new songs, they're determined to make complete mongrels of themselves.. That's why we love em!
www.facebook.com/dethlahem | Established 1996

BAYVIEW SUSPECT are a Groove Metal band from Perth WA. Their music is along the path of Lamb of God meets After the Burial. Packed full of tasty leads, catchy rhythms, upbeat drums and heavy vocals. In 2018 Bayview Suspect released their 8-track EP 'Survival or Ruin.' Bringing with it a solid amount of media attention, and 2019 was a huge year for the band with the release of their new Single 'Stay Away' and an east coast tour.
www.facebook.com/pg/bayviewsuspect | Established 2014

Despite the relatively recent formation of the band, the various members that make up WA death metal band DEPRAVITY boast a 25 year history of performing touring and recording in various bands worldwide, lending a solidarity and authenticity to their sound that should be instantly recognizable to diehard fans of the Death Metal genre. No gimmicks, no romanticized biography, just indomitable WA MADE Death Metal!
www.facebook.com/Depravitydestroy | Established 2016

South West punk rock scumbags TRS ironically enough hail from the divinity and serenity of Margaret River's pristine wine region. This band of Jobkeeping layabouts only have three words to say for themselves. Short.Fast.Thrash! Dig em or don't, it's up to you. Either way, they won't give a nut salad if you ain't Tom Araya.
www.facebook.com/TRS.PTD | Established 2014

Armed with a blistering bombast of banter laden Crossover they've dubbed "PARTYVIOLENCE" , Perth's very own party metallers, 9 FOOT SUPER SOLDIER have amused, shocked and entertained audiences in Perth with modicum of high pro􀏐ile local shows with such luminaries as Claim the Throne, Grotesque & Earth Rot. They also once performed in a bong shop!
After adding the launch of their 􀏐irst full length LP "PARTYVIOLENCE", and surviving lockdown to their social CV, 9ft are out of mum's pantry with a renewed focus on partying, benders, bongs, BBQ and gatecrashing gigs!
www.facebook.com/9footsupersoldier | Established 2013

To the uninitiated, Perth based industrial groove-metal outfit ALL THIS FILTH blend many different Metal and heavy sub genres including Groove Metal, Thrash, Hardcore, Death Metal, Industrial Metal and even hints of Sludge and Nu-Metal to create a unique blend of aggressive fury strongly influenced by the music of metal titans Fear Factory, Chimaira and Sepultura.
With a new line-up announced in late 2018 and another album "Misery Of Season" unleashed in 2019 which has resulted in the band inking a management deal with Krunch Entertainment along with a second West Australian Song Of The Year nomination, the band are about to step up their game bringing a powerful combination of musicianship and energy to SLAYFEST for the very first time.
www.facebook.com/allthisfilth | Established 2008

Like the rest of us, CRYPT CRAWLER are happily bunkered down in their hometown of Perth, where they can be found mixing up old school death metal with modern death metal to produce music described by Mitch Alexander on Triple J's 'The Racket' as sounding like a denim vest dug up from a grave.
2020 has seen CRYPT CRAWLER expand their discography with the release of their EP, 'BLOOD SUSTENANCE.' which showcases further development to the band's established sound, taking inspiration from Swedish Death Metal.
www.facebook.com/cryptcrawlermetal | Established 2018

plus
HORNOGRAPHY PERTH METAL CLUB fire up the "HELL HOUSE of OCCULT KARAOKE" in Badlands gem of a den, the Hen House, where punters can unleash the vocal demons within to a selection of metal favourites and classics.

SLAYFEST 2020 "WA MADE EDITION"
starring
PATHOGEN * BLACK STEEL * INFECTED
* CHAOS DIVINE * VANADIUM B.C * SANZU *
TEMPEST RISING * BATTLESWORD STEELMASTER
PLAGUE * DETHLAHEM * BAYVIEW SUSPECT * DEPRAVITY
TRS * 9 FOOT SUPER SOLDIER * ALL THIS FILTH * CRYPT CRAWLER
plus HORNOGRAPHY'S "HELL HOUSE of OCCULT KARAOKE"

16 BANDS – 4 ZONES – 1 NIGHT – NO REGRETS
SATURDAY 19 SEPTEMBER 2020 – BADLANDS BAR – PERTH
Doors Open 6pm til' late

* Strictly Limited Stage 4 Restrictions Capacity
**Additional tickets will be released should Stage 5 restrictions be applied.
JOIN THE EVENT PAGE FOR INFO & UPDATES: CLICK HERE

FOR FULL SLAYFEST INFO VISIT:
www.facebook.com/slayfestperth