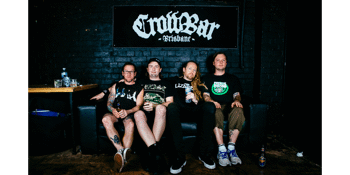 Crowbar Brisbane presents
FRENZAL RHOMB
Flangipanis & The Cutaways
Crowbar Brisbane (Fortitude Valley, QLD)
Saturday, 10 August 2019 8:00 pm
Crowbar, Young Henrys, Jameson, The Faction & GBH Stage Equipment present:

CROWBAR'S 7TH BIRTHDAY WEEK
Celebrate with us this August with a WHOLE WEEK OF PARTY!
Over the past 7 years, Crowbar has had the joy (and hangovers) of hosting thousands of musicians from the punk, rock, metal and hardcore communities. Last year we brought you six shows, now we're bringing you an extra hangover with SEVEN SHOWS FOR SEVEN YEARS!

Ask your boss for time off, reschedule your exams - our birthday week will run from Monday 5th August to Sunday 11th August!
DJ sets, floor shows, acoustics, Young Henrys pop up bar plus more to be announced! Get ready, Brisbane. Sydney, we're showing you some love too! Check in with Crowbar Sydney.

​​​​​​​TICKETS ON SALE - 10am Wednesday 5th June