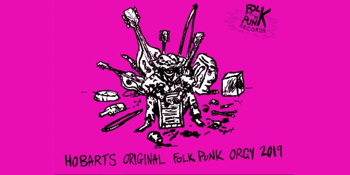 Folk 'Til Ya Punk Records presents
HOBOFOPO2019
Hobart's Original Folk Punk Orgy
Various Hobart Venues (Hobart, TAS)
Thu 31 October - Sun 3 November 2019 5:00 PM
HOBOFOPO is HOBart's Original FOlk Punk Orgy, and for four years; it has been a thing.

A debaucherous four-day gig crawl of folk-punk attracting all the crusty hobo-trash and dusty punk-folk for an annual pilgrimage. They've hosted acts such as; Days N Daze, AJJ, Sydney City Trash, The Go Set and Handsome Young Strangers, and this year they've got an amazing lineup.

The dates are 31/10-3/11, and some of the 30 acts performing this year include:

CRYWANK (UK) – having sold out shows on their last Australian tour two years ago, and headlining
Manchester Punk Festival earlier this year, Crywank are an eagerly anticipated act. An anti-folk duo with
syncopated rhythms, amazing vocals and deep lyrical content.

THE CROOKED FIDDLE BAND (NSW) – will be launching a new album, after two years of hiatus to
write and record a new album "Chainsaw-folk" ensemble The Crooked Fiddle Band are back. Tasmania
being one of their favorite stomping grounds after performing to packed out venues at Cygnet Folk
Festival, Huon Valley Midwinter Festival and Dark Mofo.

THE RAMSHACKLE ARMY (VIC) – Melbourne's finest celt-punk band will return to Hobart for the
first time since the inaugural HOBOFOPO gathering. Having toured around Australia with The Dropkick
Murphys, they've made several trips to the USA to play alongside DKM, as well as Frank Turner and The
Tossers.

CLAIRE ANNE TAYLOR (TAS) - Born in a barn built by her parents in Tasmania's ancient Tarkine
Rainforest, Taylor's music is reflective of her wild and remote upbringing. With her colossal voice,
compelling storytelling and mesmerising stage presence, her live shows leave the audience in no doubt
they have just witnessed something extraordinary.

RUNEBILLY RATTLE (SA), from the ashes of Adelaide's Dr Piffle and The Burlap Band, a "fortune stone doombily" acoustic act, they've been only gigging on rare occasions, and we're feeling lucky to have the opportunity to witness them.

DEPARTURE PARTY (NZ), having resurrected the band and getting back into the NZ scene, Jojo is coming over to deliver a solo version of their anti-folk fun.

MEDUSA'S WAKE (NSW), the rising stars of the Sydney celt-punk scene. You could be mistaken for thinking you're in Ireland and ten Guinnesses deep into a the best night you never remembered.

JODIE FLANGE (QLD), front woman of Brisbane punk rock act Flangipanis will be strapping on an acoustic guitar and doing us a solo treat.

RUSTED TONGUE (VIC), recipients of the inaugural Irish Mythen bursary grant.


KNIFEY SPOONY (NSW) - A folk punk duo from Newcastle. With catchy songs revolving around social justice and sustainable
living, these two anarcho-syndicalists kick out the jams on guitar, harmonica and euphonium.


BILLY PUNTTON (NSW) - Dexamphetamine, anxiety and depression driven, catchy fake folk punk describes the work of Inner
western Sydney trash boy Billy Puntton.


Plus some of the mainstays of Australian folk-punk of the last five years, these acts have played every HOBOFOPO so far, and it would be amiss to not have them;

Convict punk storytellers THE DEAD MAGGIES, fun emo and positive observational QUINTON TREMBATH, boozy bluegrass and cheeky country folk trio THE STRAGGLERS, more anarcho psychosis from the gutter THIS IS A ROBBERY, better dead than alive THE DEAD PEASANTS, fails at singing about unemployment BRODYGREG and another anarchist punk playing 4-chords and the truth JUDE JOSEPH.