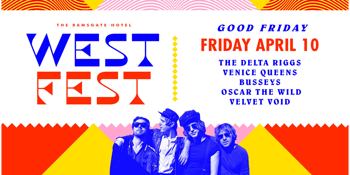 CANCELLED - WESTFEST 2020
Ramsgate Hotel (Henley Beach, SA)
Friday, 10 April 2020 2:00 PM
"Ramsgate Hotel presents 'WESTFEST 2020'!

Good Friday - Friday, 10th April

Following its inaugural sell out year in 2019, Westfest at the Ramsgate is back... bigger and better!
Headlined by
THE
DELTA RIGGS
- Renowned for pumping out high-energy jams & ferocious, sweat-soaked live shows, Melbourne psych-rockers, The Delta Riggs had a massive 2019!
The Riggs have recently dropped their highly anticipated fourth studio album 'Modern Pressure'. Exuding maturity drawn from thoughtful reflection and newfound perspective, 'Modern Pressure' demonstrates a coming of age for the band through its poignant and personal songwriting; something the band hopes will resonate with those who listen.
"We feel 'Modern Pressure' is a release that Riggs followers have always wanted," says frontman Elliott Hammond.
"The essence of the album is both heartfelt and volatile. We pushed ourselves to the edge. We really hope you enjoy it."
VENICE QUEENS -
Adelaide five-piece Venice Queens have well and truly established themselves as a South Australian music heavyweight over the past two years. In the wake of the release of their debut, self-titled EP, the band embarked on their first tour of East Coast Australia in 2018, playing multiple shows in both Sydney and Melbourne.
Continuing to build their reputation as an emphatic live act in 2019, VQ played their biggest headline show to date during the opening month of Adelaide's newest venue, Lion Arts Factory, to an audience five-hundred strong. With an increasing catalogue of new music in the works with Simon Kither and ARIA Award-winning producer, Adrian Breakspear (Gang Of Youths, Pharrell Williams, Delta Goodrem, Boy & Bear) fans should expect a whole lot of new music very soon.
BUSSEYS - Hailing from Adelaide, South Australia, Busseys are a three-piece producing a flavour of indie rock that'll make you wish you weren't lactose intolerant. The group is comprised of Dan Holland on vocals/guitar, Brock Evans on bass, and Xav Redden on drums.
Their first two releases 'Crystal Gazer' and 'Lazy' quickly gained a following in Adelaide, helping them share the stage with Aussie acts such as Lime Cordiale, Spacey Jane, British India, Mosquito Coast, the Montreals, White Blanks, and Horror My Friend. The group is soon embarking on their first interstate tour, promoting their latest single 'Looney' off of their upcoming EP.
OSCAR THE WILD - Oscar the Wild have not slowed down since their inception in early 2018. The four girls have gigged relentlessly since becoming a band, making a name for themselves within the South Australian music scene. Their mix of indie-rock, indie-pop, punk with a splash of jazz has struck a chord with audiences in their hometown. They've had a massive 2019 and are back in 2020 with their latest single 'Kiss Me Aphrodite,' and show no signs of slowing down.
VELVET VOID -
Forming in the Adelaide Hills of South Australia, Velvet Void draw on the sonic qualities of decades been and gone to forge an original blend of psychedelia and the rock sounds of the 60s and 70s. Comprising Morgan Miller (guitar/vocals), Bailey McCarthy (guitar), Declan Oetjen (bass) and Lewis Dimitropoulos (drums/vocals), the band records in a home studio, where they produce distinctively unique, genre-bending songs.
Velvet Void set out to capture the imaginations of audiences, and share their original sound with the world. So, feast your ears, and indulge in the euphoric sounds of the Velvet Void.

TIX ON SALE NOW - all proceeds go towards supporting these great Aussie acts!"