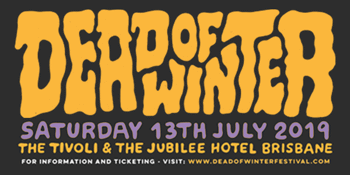 Dead Entertainment, Beats Cartel, Supercrazy presents
Dead of Winter Festival
with special guests
The Jubilee Hotel & The Tivoli (Fortitude Valley, QLD)
Saturday, 13 July 2019 12:00 PM
DOW 2019 - The Valley of Death Edition

Annual heavy fest DEAD OF WINTER returns to haunt punters once again on Saturday July 13 in Brisbane, bringing new shocks, surprises and stages as bodies pile up in preparation for the arrival of the Reaper!

Expect an audio-visual overload, S-FX Body Morphing and otherworldly creatures in a super inclusive environment as we throw open the gates of hell-bound fun & action for all in what will be another sold out event.

To celebrate ten years since Dead of Winter began, every aspect of the festival will be leveled up in 2019 to bring you, the punter, the biggest and best DOW bill ever assembled with 61

bands plus sideshows on 6 stages across The Tivoli precinct and The Jubilee Hotel complex..



THIRD AND FINAL ANNOUNCE INCLUDES:

COG

DISENTOMB

MAMMAL

BODYJAR

28 DAYS

AVERSIONS CROWN

NICK OLIVIERI (USA)

BEASTWARS (NZ)

VOYAGER

SVETLANAS (RUS)

KYUSS DIES!

BLOWHARD

THE GO SET

HITS

FLANGIPANIS

TRUTH CORRODED

THE DECLINE

A NIGHT IN TEXAS

GRAVEMIND

BARE BONES

LO!

OUTRIGHT

TRUTH BE KNOWN (SNG)

EARTH CALLER

THE NEPTUNE POWER FEDERATION

DARKCELL

MINUS LIFE

THE OMNIFIC

ÂME NOIRE

WRAITH

CAPTIVES

BAKERS EDDY

CHAOS DIVINE

CRAVE DEATH

ELEPHANT HIVE (ISR)

KAOSIS (NZ)

RICK DANGEROUS & THE SILKIE BANTAMS

VITALS

DEPRAVITY

SHANDY

OPUS OF A MACHINE

SUMERU

FIGHT IBIS

THE LOU DOGS

POTION

THE WRATH

I AM DUCKEYE

HORACE BONES

TAI SUI

WHISKEY AND SPEED

SWAMP GULLY HOWLERS

HAMMERS

RADOLESCENT

SOMETHING SOMETHING EXPLOSION

PATIENT LOUNGE

FROM CRISIS TO COLLAPSE

PISTON FIST

NOWHERE ELSE

SERIAL KILLER DINNER PARTY

BLUE SAVANNAH UNDERWORLD

VOID MATTER


Plus sideshow appearances by
The Heart and Dagger Sideshow, Lila Luxx, Dolly De Ville and Dahlia Dyer


The Dead of Winter Festival would like to thank Beats Cartel, Dead Entertainment, Supercrazy and Fireball Whisky for their assistance thus far and is happy to be associated with Young Henrys, Hysteria Mag, 4ZZZ, Beserk Clothing, Everblack, Riffs & Licks Music, The Drum Cartel, Scenestr and Via Studios for the 2019 event.