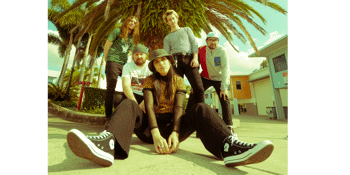 The Foundry and Select Music
WAAX
Spit Wash
The Foundry, Brisbane (Fortitude Valley, QLD)
Friday, 24 July 2020 7:00 pm
We are thrilled to announce WAAX will headline a double show to mark The Foundry's Fifth Birthday. This show will be extra special as it will be live recorded and made available to ticket holders after the show via download so they can relive the excitement of this Brisbane rock powerhouse at the peak of their powers. A rare opportunity to be part of a milestone performance on stage in one of Brisbane's live music icons.

Australia's most electrifying punk band, WAAX emerged from Brisbane in 2015, possessing an intensity and captivating, barely-controlled chaos that had been missing from the local music scene for years. Early singles, 'I For An Eye' and 'Wisdom Teeth,' were fresh and fiercely ambitious, with vocalist Maz De Vita's unbridled passion and seductively melodic flow full of hooks.
2017's Wild & Weak EP saw their popularity grow exponentially off the back of tracks like 'Same Same' and 'This Everything,' as did their striking reputation as a live band. Radio soon stepped up to the plate and carried these honest and hard-nosed new tunes across the globe. Now we land at the next phase of their career and the immense new single 'Labrador.'
It doesn't take long listening to realise that once again you're in brand- new WAAX territory in 'Labrador' – undeniably the biggest song of their career. Above all else, the focus continues to be drawn to De Vita's concentrated vocals, sounding smoother and more emotionally raw than ever. "I want to be the voice that I couldn't hear when I was young," says De Vita. With songs like 'Labrador' in her arsenal, she's well on her way to achieving that goal.