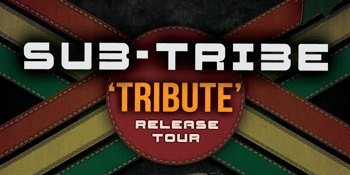 Presented by Mpress Mpire Music
SUB-TRIBE 'Tribute Release Tour'
David Grace & Injustice, DJ Huta, Elijah Bellerose
Parkwood Tavern (Parkwood, QLD)
Saturday, 24 August 2019 8:00 pm
From the raw, roots-driven frequencies of Aotearoa (New Zealand) comes SUB-TRIBE. Packing thick with bottom end, glitchy beats and soaring harmonies. Expect to be taken on a journey across genres – from blues drenched dub, chunky skank reggae to jazzy hip-hop with a twist of ragga dancehall.
This 6-piece dub-fusion outfit offer a distinctive and exciting approach to the bass culture movement with captivating, high energy live performances that will leave you skanking for more...
SUB-TRIBE are excited to be announcing a new release scheduled to drop early August with accompanying video clip. The track simply titled 'Tribute' is exactly that. A clever and catchy 'Tribute' to the legend and pioneer of Reggae music, Bob Marley.
To celebrate the release, SUB-TRIBE will be at Parkwood Tavern on the Gold Coast with a bunch of very special guests:
One of the original pioneers of Reggae music in NZ and voice for the rights of Maori & Indigenous people.......

DAVID GRACE & Injustice

We'll also have the Fresh Rockin' Roots of Elijah Bellerose & Band.
If you're up for a night of heavy bass, great energy and roots reggae music then come and experience live the SUB-TRIBE-vibe!!