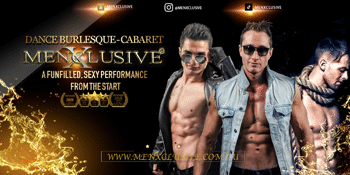 Sidney Saayman presents
MenXclusive Live
Max Watt's Melbourne (Melbourne, VIC)
Friday, 17 December 2021 7:00 pm
Live Cabaret-Theatre style Performance, Interactive and Classy, MenXclusive is the Ultimate night filled with FANTASY.
Celebrate, Dance, Feel, Drink – Find yourself surrounded by entertainment MenXclusive All Male Cabaret will surely let your inner goddess out to play.
Find out for yourself – come and see all male Burlesque so tantalizing and teasing, that leaves you breathless for the night.
ABOUT MENXCLUSIVE
MenXclusive Stage Cabaret Shows have been voted by the industry "Australia's Best Male Strippers Melbourne" <
http://menxclusive.com.au/stage-shows/
>
Since we first peeled back our tops in 2014 we have been the sexiest, most fulfilled act in the Southern Hemisphere.
It is an experience simply irresistible. Celebrate with the person of honor or your best friends by your side while indulging in Australia's hottest performance a show you just dont want to miss! Australia's Hottest Male Talent- Just For You.
This is a Covid Safe event and there are a few things we need you to know before you arrive:
PLEASE DON'T COME if you feel sick, if you've been in contact with a person who has been diagnosed with coronavirus (Covid-19) or if you have travelled overseas or to a coronavirus hotspot in the last 14 days. Contact Oztix - we will refund your ticket.
BRING A MASK — if you are unable to socially distance, it will offer you protection.
A strict NO QR CODE, NO ENTRY policy applies at our venue. We use the Service Vic App QR code and you will have to show a Security Guard YOUR GREEN TICK at the door ​to enter the venue.
​Your TICKET WILL BE SCANNED at the Box Office and matched to the detail input at the time of purchasing your ticket. This data will be kept for 28 days to facilitate Track & Trace.
Download the App now for iPhone
Download the App now for Android
5. NO MOSHING and NO CROWD SURFING. Patrons who kick off will be removed from the venue. We're really sorry about that, but we're in a pandemic and we want to STAY OPEN.

Do your best to remain socially distanced and practice good hand hygiene. If you feel sick at the event, please report immediately to the Box Office so we can do a first aid assessment and get you home safely.