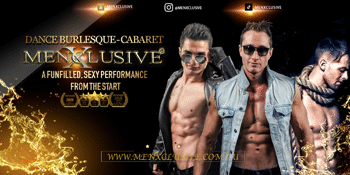 Sidney Saayman presents
MenXclusive Live
Max Watt's Melbourne (Melbourne, VIC)
Saturday, 24 July 2021 7:00 pm
Live Cabaret-Theatre style Performance, Interactive and Classy, MenXclusive is the Ultimate night filled with FANTASY.
Celebrate, Dance, Feel, Drink – Find yourself surrounded by entertainment MenXclusive All Male Cabaret will surely let your inner goddess out to play.
Find out for yourself – come and see all male Burlesque so tantalizing and teasing, that leaves you breathless for the night.
ABOUT MENXCLUSIVE
MenXclusive Stage Cabaret Shows have been voted by the industry "Australia's Best Male Strippers Melbourne" <
http://menxclusive.com.au/stage-shows/
>
Since we first peeled back our tops in 2014 we have been the sexiest, most fulfilled act in the Southern Hemisphere.
It is an experience simply irresistible. Celebrate with the person of honor or your best friends by your side while indulging in Australia's hottest performance a show you just dont want to miss! Australia's Hottest Male Talent- Just For You.