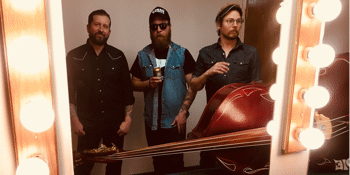 The Number 9 Blacktops - CANCELLED
with special guests
The Bunker @ The Imperial Hotel Eumundi (Eumundi, QLD)
Friday, 25 October 2019 7:30 pm
Join us in The Bunker on Friday 25 October when three piece rockabilly band THE NUMBER 9 BLACKTOPS roll in to town. All the way from Carbondale Illinois, the self-described purveyors of "hot-rod rockabilly and motorcycle rock-n-roll" will have you on your feet!
Singer guitarist Jim Rotramel explains the band history simply as "Jim started the band, Cody joined the band, then Kasey joined the band. We have a pretty fun time playing music together. We've played in 11 different countries and put a lot of miles on a Ford van"
"We write songs about cars, motorcycles, and pretty girls," Jim says "We then drive great distances in that van to sing you these songs in person in your local bar!"
"Playing Australia has been on my rock 'n' roll bucket list for years now, and we can't wait to hit the road over there!," he says.
The band will be releasing an acoustic album of some of their fan favorites (along with two brand new songs) in the next few months, and Jim has recently been at the grindstone pumping out new rockabilly hits.
The boys are shooting for their fifth full-length album by the end of the year and have tons of shows in both the USA and abroad in the works.
"I can't begin to say how excited I am to hop on stage, plug in my White Falcon, crank up the amp, and strum my first chord in an Australian venue! I will say that it'll probably be an "E" chord. I know that much at least," jokes Rotramel.
A few more facts about The Number 9 Blacktops:
They have toured 11 countries now, with 15 trips to Europe in the past few years
They are professionally endorsed by Gretsch Guitars, Fender Amplifiers, Bigsby Vibratos, and Buffalo Trace Bourbon
Harley-Davidson stuntman Bubba Blackwell uses their songs during his events
They played a private birthday shows for the Johnny Knoxville-produced outlaw dancer Jesco White
They have CDs produced by Eddie Spaghetti from the Supersuckers, and Rick Miller from Southern Culture on the Skids
They were the support band for Chuck Berry four times in St. Louis