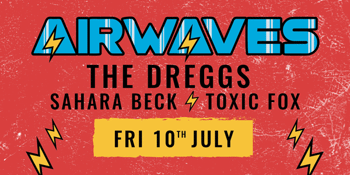 Buskers by the Lake + Sunshine Coast Council
Airwaves - The Drive In-Music Festival - FRIDAY
With The Dreggs, Sahara Beck & Toxic Fox
Nambour Showgrounds (Nambour, QLD)
Friday, 10 July 2020 4:00 PM
BUCKLE UP + DRIVE-IN + PARK UP + BLAST OFF! AND DANCE UNDER THE STARS!!
Yes! You read right, DANCING OUTSIDE YOUR CAR IS PERMITTED (social distancing from the crew next door, of course)!

FRIDAY 10 JULY
PROPOSED SET TIMES
(Subject to change without notice)
6.00pm – 6.30pm || DJ Sophie Durbridge
6.45pm - 7.45pm || Toxic Fox
8.00pm – 8.45pm || Sahara Beck
9.00pm – Close || The Dreggs

Get in early to secure your spot!!
Gates open at 4pm, with all cars scheduled to be parked by 6pm
The event will end by 10.00pm.
From 10.00pm Patrons and Vehicles are requested to depart venue, with gates to close at approximately 11pm.

Parking spaces on the shuttle deck are extremely limited, so get in quick if you want to secure your position in history
Our cabin crew will be awarding the best galaxy themed threads, so dress creative, drive-in, park up and fasten your seatbelts for blast off!
CLICK HERE - VIEW THE CAR PARK LAYOUT

OUTER DECK COCKPIT EXPERIENCE

Park up on the outer deck and become part of our mission history!
Included in your ticket price:
1 x Outer Deck car-park
For best visibility and access for all our cosmonauts, large cars including vans, 4WD's, large utes and wheelchair accessbility vehicles will be parked up on the outer walls.
Don't worry, our LED screens will ensure you don't miss out on seeing the action!
** SMALL TO MEDIUM CARS ALSO PERMITTED ** .


This is a BYO event and to make sure your trip home isn't aborted, nominate your mission driver (and shout them their ticket for taking one for the team)! Drivers will be breathalysed on departure, just to be on the safe side!

Our sub-station crew will be Covid prepared, with contactless ticketing and door delivery of our "Cosmic Crave" packs and in-flight meals. They'll also ensure the hand sanitiser and toilet paper are well stocked! We ask ticket holders to help us keep our Covid Care Checklist up to scratch, by taking home their rubbish and remaining in vehicles at all times, except for stretch or toilet breaks.

TICKETS ARE PRICED PER CAR AND PARKING SPACES ARE ALLOCATED ON ARRIVAL.
GATES OPEN FROM 4.00PM AND ENTERTAINMENT BEGINS AT 6.00PM , SO BE SURE TO GET IN EARLY SO YOU DON'T DELAY BLAST OFF!
DRIVERS WILL BE USHERED INTO POSITION BY OUR CREW.
PLEASE NOTE LARGER VEHICLES ARE ONLY PERMITTED ON THE OUTER DECK - BUSES ARE NOT PERMITTED. TICKETS ARE NON-REFUNDABLE ONCE PURCHASED.