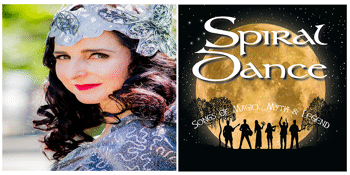 Arty Records
Isadora's Dream + Spiral Dance
The Wheatsheaf Hotel (Thebarton, SA)
Saturday, 21 November 2020 8:00 pm
Isadora has a dream…
Piano driven Art Rock/Pop, atmospheric and soulful guitars, beats with shifting time signatures. Encompassing elements of dance & movement, Isadora's Dream present a theatrical and sophisticated fusing of musical genres. Capturing emotive lyrics, romance and the drama of nature.
Isadora invites you to feel... to be changed!
Vocals (Isadora Dream), Guitars (Damien Williams) Keys (Harry Mill) Drums (Satomi Ohnishi)
"...a truly unique voice, which she utilises and projects with the confidence of an experienced artist." Sarah Jane Justice - All Over Adelaide Arts Magazine
"…eclectic yet accessible, sincere art rock devoid of grandiloquence and performed with character." Bián Hickman - Clothesline Magazine, Adelaide
progressive rock without the bombast or self indulgence. Imaginative yet highly accessible. Contemporary themes distinguished by old-school musicianship. Colorful harmonies and deftly managed meter changes that are essential to the music

'

s message

". Peter Dowdall, Producer - Elder Conservatorium of Music, Adelaide
"...atmospheric, theatrical, dramatic, and romantic this music feels experimental but has a solid rock base…a unique sound". Rowena Garcia - Man About Adelaide - Art & Culture Magazine
Instagram; https://www.instagram.com/isadoras_dream/
Facebook; https://www.facebook.com/Isadoras-Dream-109545237162061/
Listening; https://open.spotify.com/track/5sCzihrytexFEKGP7nXc9t?si=u5eOYmnRTuKXunxOxRKc-A
YouTube; https://www.youtube.com/watch?v=dBL0s-7ictI

SPIRAL DANCE

Fusing folk-lore and legend with a good heady serve of pagan mystery, Spiral Dance presents an eclectic blend of traditional English folk-rock with powerful self-penned songs and tunes. Rousing melodies intertwine with mythical tales that will spirit you into the realms of magic and the mists of ancient time – this is music that will rock your ancestors!
http://www.spiraldance.com.au


Got your tix? Now get a table:0437 712 143 - Limited table bookings available.