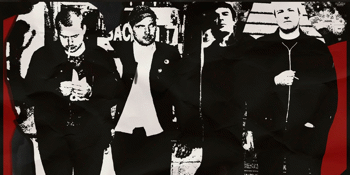 Flightless present..
CIVIC - FUTURE FORECAST - ALBUM LAUNCH
The Croxton Bandroom (Thornbury, VIC)
Friday, 4 June 2021 8:00 pm
Driving and tenacious, but never losing sight of a good hook - CIVIC don't tip-toe around the edges, but obliterate them with primal intensity. Finding a home somewhere between 80's glam rock and Australia's 70's greats, they break the pieces of influence before crafting them into their own beast on debut LP
'Future Forecast'
.
"On Future Forecast, Civic's first LP, they've added sophistication to their arrangements and songwriting without losing any of the in-your-face-ness of their previous work. Great guitar sounds. This is a really good record. Civic's entire catalog is excellent - Henry Rollins"
CIVIC will launch 'Future Forecast' at The Croxton on Friday 4 June.
This is a Covid Safe event and there are a few things we need you to know before you arrive.
PLEASE DON'T COME

if you feel sick, if you've been in contact with a person who has been diagnosed with coronavirus (Covid-19), or if you have travelled overseas or to a coronavirus hotspot in the last 14 days. We will refund your ticket.

BRING A MASK

. If you are unable to socially distance, it will offer you some protection.

A strict

NO QR CODE, NO ENTRY

policy applies at our venue. We use the Service Vic App QR code and you will have to

SHOW SECURITY YOUR GREEN TICK

at the door in order to get inside.
Download the App now for iPhone
Download the App now for Android
NO MOSHING, NO CROWD SURFING

. No kidding. Patrons who kick off will be removed from the venue. We're sorry about it, but we're in a pandemic.
Do you best to remain socially distanced and practice good hand hygiene. If you feel sick at the event, please report immediately to the Box Office so we can do a first aid assessment and get you home safely.