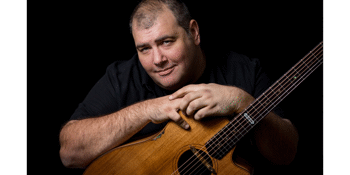 Palais-Hepburn
Lloyd Spiegel
Palais - Hepburn (Hepburn Springs, VIC)
Saturday, 20 November 2021 7:00 pm
Saturday, June 19th, 2021
Tickets: $30 Door: $35
Dinner & Show: 3 course, Modern Australian Cuisine: $100. Limited Tickets available, Guaranteed front seating.
Doors open: 6:30pm. On Stage: 8pm-10pm
Dinner times Pre show: 6:30pm, 6:45pm, 7pm, 7:30pm.
Genre: Blues & Roots
Guitar Master Lloyd Spiegel Returns to the Road
Renowned acoustic guitar slinger Lloyd Spiegel is delighted to announce a string of shows in some favourite Aussie venues over 2021
Of course, like everyone else, Spiegel has been in virtual hibernation for the last year or so and is keen to hit the bandstand with a renewed energy and fire in his belly.
Says Lloyd of the return to playing shows:
"I've always seen myself as more of an entertainer than a musician so without audiences this last year, It's been harder to find the joy in music. That experience has renewed my dedication to performing and reminded me just how lucky I am that this is my job.
Picking up the guitar at age 4, Lloyd played his first professional show at age 10 and was touring the east coast of Australia at 12.
Lloyd has toured extensively throughout Australia, New Zealand, the United States, Canada, Europe and Japan, where he has performed at major festivals and iconic Juke Joints as well as supporting the likes of Ray Charles, Bob Dylan and Etta James on tour. His contributions to music have earned him myriad accolades, such as 2018 Album of the year Blues and Roots Radio Worldwide awards, Best Artist and Best Album at the Australian Blues Awards and being named as one of Australian Guitar Magazine's Top 50 Australian guitarists of all time.
PALAIS-HEPBURN
The refurbished Palais-Hepburn is one of Country Victoria's finest venues. Located in Hepburn Springs/Daylesford. Providing superb new dining in our Salon and Cocktail Bar, along with a variety of music and entertainment. Refined art deco interiors with sophisticated glamour, including outstanding sound system, lighting for the artists to play a huge variety of music styles including Jazz, Soul, Funk, RnB, Rock, Folk, Country, Soul, Pop, Alternative, Classical, World music. Keep an eye out for our annual festivals and events.
OUR DINING EXPERIENCE
Aside from entertainment, an evening at the Palais-Hepburn entails fine dining, sophisticated cocktails and boutique wines. We offer three-course dinner & show packages, which guarantees a table and seating. Bar Food menu will be available on the night. Our Modern Australian menu showcases only the best locally sourced ingredients guaranteed to delight your taste buds.
CONNECT WITH US
Follow us on Facebook.