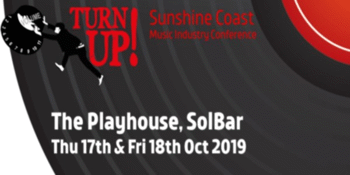 TURN UP!, Solbar, Oztix, The Sunshine Coast Creative Alliance and Scenestr present
Turn Up! Sunshine Coast Music Industry Conference
Solbar (Maroochydore, QLD)
Thu 17 - Fri 18 October 2019 4:45 pm
The 2019 Turn Up Sunshine Coast Music Industry Conference is turning 6 and has a two day celebration planned @ The Playhouse at Solbar, Maroochydore on Thursday 17 and Friday 18 October.
The Turn Up conference program will take place on Thursday evening from 4:45pm until 10:45pm with showcase acts, a keynote, panels, networking and an after party.
The second day of celebration will kick off with a music industry breakfast with a speaker and showcase performer @ Solbar from 8:30 pm, followed by master classes throughout the day, with a showcase gig on Friday evening at Solbar. We have some great speakers who we are locking in at the moment for this year's conference. We will keep you up-to-date as they are announced in the coming months.
Limited earlybird conference only tickets are $40 plus the booking fee and limited VIP passes that give you access to all events are $100 plus the booking fee. These tickets are on sale now through Oztix on the below link. There is only 20 of each, so get in quick to lock your's in and don't miss out on being at this conference this year. General admission tickets will be on sale for more in late June/July when we announce the whole line-up of speakers and performers.
https://solbar.oztix.com.au/outlet/event/cbc8b4ca-68e5-44c7-851f-f3d8697f1107
.
Check out Turn Up's promo video at the following link from the 2018 conference at Solbar to see what went on that was filmed and edit by Nick Hargans.
https://youtu.be/esf07E75OhA
.
Check out Turn Up's new website which has just been launched at:
www.turnupevent.com
<
http://www.turnupevent.com
>.
2019 Facebook event invite link:
https://www.facebook.com/events/2164895773597909/?ti=ia
Connect, network, listen and learn at this two day event of celebration and education for the Sunshine Coast Music Industry. The Turn Up Crew look forward to seeing you at it in 2019.