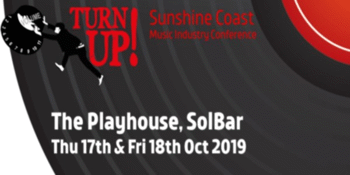 TURN UP!, Solbar, Oztix, The Sunshine Coast Creative Alliance and Scenestr present
Turn Up! Sunshine Coast Music Industry Conference
Solbar (Maroochydore, QLD)
Thu 17 - Fri 18 October 2019 4:45 PM
2019 brings the Sunshine Coast music community together again for the Turn Up Sunshine Coast Music Industry Conference, happening at The Playhouse at Solbar, Maroochydore on Thursday 17 October.
Turn Up event is fast becoming Australia's favourite regional music industry gathering adding an extra day on Friday 18 October with an industry breakfast, two master classes and a showcase gig. The Thursday program includes a Keynote, In Conversation panel and live Q and A with leading music industry achievers.
Program Director, Eloise Gallagher said "The 2019 Turn Up Conference is about bringing Sunshine Coast music people together to interact with, celebrate and be inspired by Australia's music industry experts. We have been building this event over several years and have developed a community of very approachable leaders who want to pass on their wealth of experience to the next generation, in an intimate and welcoming setting. In 2019, we bring you an Aussie legend: promoter, manager and record label chief Michael Chugg, who will distil 57 years of music industry experience into an unmissable keynote speech."
The name Michael Chugg is synonymous with some of the biggest tours to have ever come through Australia and New Zealand. "The whole southern Queensland area has been a good nursery for young musicians and young industry people," Chugg says. "They're trying really hard at it, and Turn Up is held in an area that can always use an event like this – it's not in a capital city. It's a good thing and I'm sure there are a lot of people out there who are still finding out about it who will really enjoy it."
Chuggi's' keynote, is just one of the great reasons to Turn Up! Returning to the conference to share more in 2019, are Roadies author Stuart Coupe, Barry Bull, Kellie Lloyd and Francesca de Valence. As always, Turn Up's key focus is to provide networking opportunities and to showcase emerging Sunshine Coast Musicians.
What: 2019 Turn Up Sunshine Coast Music Industry Conference.
When: Thursday 17 October 2019 4:45pm - 10:45pm and Friday 18 October 2019 8:30am - 9:00pm.
Where: The Playhouse at Solbar, 10 to 20 Ocean Street, Maroochydore QLD 4558.
Speakers and Presenters: Barry Bull OAM, Michael Chugg OAM, Lucius Borich (COG), Dr Bill Anseline (Hemisphere), Shannon Ward (Hemisphere), Scott Maughan (RSM Accounting, Kellie Lloyd (APRA AMCOS), Stuart Coupe, Howard Freeman, Sophie Kirov (Badlands Group), Trina Massey (Association of Artist Managers), Roland West (Sunshine Coast Creative Alliance), Francesca de Valence (I Heart Songwriting Club), David Dean (David Dean Events), Andrea Smith (Applause Genie) and Eloise Gallagher.
Facilitators: Kellie Lloyd, Stuart Coupe and Eloise Gallagher.
Showcase performers: Dorah Jacson and Aspy Jones on the Thursday and Mason Hope on the Friday morning.
Panel topics: Healthy, Wealthy and Wise: How to stay fit, play well and save for the future, Road Running - How to Survive in The Fast Lane of Rock 'N' Roll and Have Your Questions Answered By The Professionals.
Master Classes on the Friday: 5 Powerful Pathways to a Successful Music Career You Love and Making Your Wildest Creative Dreams Come True with Francesca de Valence from I Heart Songwriting Club and The Business Of Managing Music - Management, promotion, bookings, touring and negotiation tactics with Howard Freeman, Stuart Coupe and David Dean interviewed by Andrea Smith.
Supporting businesses and sponsors: Solbar, Oztix, APRA AMCOS, Sunshine Coast Council, Sunshine Coast Creative Alliance, EventX, DW Sound, Scenestr, TAFE Queensland East Coast, 91.9 Sea FM, 92.7 Mix FM, 91.1 Hot FM, 96.1 Classic Hits Zinc FM, Snap Print And Design, Maroochydore – Sunshine Coast, Shadowplay Photography, Shake It Up Music, Wagwurst Studios, I Heart Songwriting Club, Crew Care, Association of Artist Managers, QMusic, Binary Music, Country Music Marketing, Racy and Lucky, Applause Genie, Hostile Entertainment and David Dean Events.
Check out Turn Up's promo video at the following link from the 2018 conference at Solbar to see what went on that was filmed and edit by Nick Hargans.
https://youtu.be/esf07E75OhA.

Check out Turn Up's new website which has just been launched at: www.turnupevent.com
2019 Facebook event invite link:
https://www.facebook.com/events/2164895773597909/?ti=ia

Connect, network, listen and learn at this two day event of celebration and education for the Sunshine Coast Music Industry. The Turn Up Crew look forward to seeing you at it in 2019.