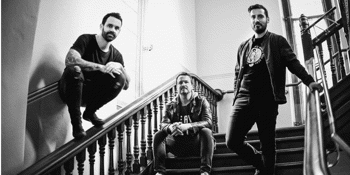 Krunch Entertainment & The Rockpit present
The Silent Deeds 'Down With Me' EP Launch
with special guests Ezra Tide and Amber Reid
Lyric's Underground (Maylands, WA)
Saturday, 31 October 2020 7:30 pm
Perth rock act The Silent Deeds recently announced the release of their new EP "Down With Me" which will be out October 23rd. To celebrate, the band will launch the first of a series of shows across WA with a special event on Saturday October 31st Halloween at Lyric's Underground in Maylands. Supporting at the event will be solo artist Amber Reid and 4 piece rock outfit Ezra Tide. Pre-sale tickets available via Oztix.
The new 4 track EP 'Down With Me' comes after their successful single and video last year for "The Race" which gained over 14,000 views on their Facebook page. Pre-orders for the EP will be available soon, check out the latest single "Come Alive" on major digital platforms now at:

http://smarturl.it/silentdeeds
The two new tracks "Down With Me" and "Ghosts" were recorded earlier this year at Hammerspace Recording and produced by Troy Nabanan. The artwork was handled by DIsconnect London in the UK.
The band comments on the new EP: "It's been five years since our last EP, and we couldn't be more thrilled to release this rocker to the public. It's the heaviest, catchiest and funkiest set of songs we've ever released. Down with Me (EP) captures the essence our new deeds sound, mashed together with a unique blend of hard hitting drums, funky guitars and balls out guitars!"
Hailing from Perth WA, The Silent Deeds draw on influences from a variety of musical styles including Foo Fighters, U2, Pearl Jam, Red Hot Chili Peppers, and The Beatles.
The band have been an active group in the Perth scene for a few years and have released an EP 'Desert Town' and a string of singles 'Rusty Chair, Sixty Three, Here We Go, Sweet September & The Race' while pulling in crowds at various venues in Perth and around W.A. including a sold out launch show in 2018.
The Silent Deeds performed their first stadium show in 2019, as the official musical act of the 2019 WAFL Grand Final at Optus Stadium in Perth. The Deeds join a select few superstars (Queen, U2, Taylor Swift, Eminem) that have performed their originals at the 60,000 seat stadium. Later that same year the band travelled to Melbourne for their first interstate show, performing alongside Palace Of The King, WARBIRDS and more as part of The Rockpit's 10th anniversary celebrations.
Having also supported the likes of US rockers Fuel and Melbourne's own Taxiride, The Silent Deeds are looking to capitalise on growing interest as the band looks to the future with more releases and touring being planned.