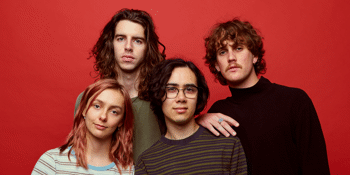 Supersonic Presents
Spacey Jane
with special guests
The Rechabite (Northbridge, WA)
Wednesday, 6 October 2021 4:00 pm
Due to overwhelming demand, Spacey Jane are thrilled to be adding an All Ages show to their WA dates in celebration of their new single "Lots of Nothing". Playing The Rechabite on Thursday 7 October, the show comes before their biggest home town gig yet, at Red Hill Auditorium on Saturday 9 October.
The WA forecast is looking good for fresh material to be previewed in front of hometown fans. These shows will be the start of what hopes to be a much larger national tour, once the current situation gets better and restrictions lift across the country.
Spacey Jane's debut album Sunlight, released last year, reached #2 on the ARIA charts, was nominated for a J Award for Album of the Year and was voted Album of the Year in the triple j Listener's Poll.