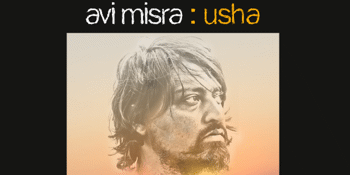 Bar Open Presents, 'Usha' Album Launch Tour
AVI MISRA (Album Launch)
with Laneous (solo) + Ha Na (solo)
Sunday, 3 February 2019 3:00 pm
East meets West and Old meets New in Avi Misra's third album 'Usha'. The Tokyo born, Delhi bred, Melbourne based singer, songwriter and producer launches his first electronic album with a 3 city Australian Tour in February'19.
'Damningly defiant in the face of modern music stereotyping this singer songwriter is paving his own way.' - Tonedeaf
'Usha' is Misra's third album and first foray into electronic music. Avi has stayed true to his roots as a musician and kept it real; strictly no pitch correction and quantisation, minimal compression and live jams. This organic, human sound is what defines Avi's productions; from the raw live energy of 'New Delhi Blues' to the folk fusion vibes on 'Eyes on The Radio' to the transcendental textures of 'Usha'.
A spontaneous jam at the Mtv Indies Ragasthan Festival in 2014 with the Ustad Arba Music Group from the Manganiyar and Bheel gypsy music communities sparked the idea of a recording session in Delhi, producing stems that would later feature on 'Usha' four years later. Avi has played all the other instruments (guitar/vox/synth bass/drum pads/synth), recorded, mixed and mastered this album from his new Melbourne home studio. Most synthesiser and drum parts on this album have been played on the Ableton Push2 and he will be using the Push2 live with triggers, faders and pads as well as live electric guitar and vocals to make for a riveting solo act.
Avi's time in Australia from 2015 has only reinforced his passion for representing diverse stories in contemporary music. Listening to creation stories from indigenous friends has spiked Avi's interest in finding parallels from traditional stories inspired by nature across the world, particularly his own roots. 'Usha' is a Sanskrit word for the Vedic goddess personifying dawn. 'Usha' is one of the primary deities of the Rig Veda, the oldest book of the 'Vedas' which are held as sacred traditional knowledge in India dating back thousands of years and were originally composed in song. The album chronicles a search for identity in three acts.
Avi Misra's 'Usha' Tour features some exceptional guest singer songwriters from Melbourne, Brisbane and Sydney playing intimate solo sets. For the Melbourne gig we have-
Laneous -
"A genius" - Nai Palm (Hiatus Kaiyote)
Jazz, funk and soul singer and guitarist extraordinaire Lachlan Mitchell aka Laneous (of funk group Kafka + Laneous & The Family Yah) is back with his debut solo album 'Modern Romance'. The record features producer and bassist Paul Bender and keyboardist, Simon Mavin (both of Grammy nominated Hiatus Kaiyote ), Donny Stewart on vibraphone and Hudson Whitlock (The Cactus Channel) on drums.
Ha Na (solo) -
'What a blast of fresh air.' - Paul Mac
Formerly performing as MKO ( MKO Sun) and winner of the Grant McKennan Fellowship Award in 2016. Melbourne based Hannah Macklin is a multi-faceted singer, songwriter, producer and artist, who has performed a huge array of music in widely diverse settings – from original projects to big band, music theatre, experimental jazz, improvised music, soul and hip-hop supergroups to guesting with various DJs and producers.
With 'Usha', Misra has found his true voice as an artist. Doors open at 3pm with no order of performances fixed before the show, so come in early and indulge in a feast of song!