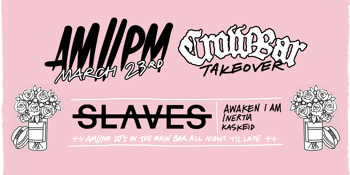 AM//PM x Crowbar Sydney: Slaves (USA)
with Awaken I Am
Crowbar Sydney (Leichhardt, NSW)
Saturday, 23 March 2019 7:30 pm
AM//PM x Crowbar Sydney: Slaves (USA)

After working with Crowbar in Brisbane for over a year, it was only right to welcome them to Sydney by throwing them their very own AM//PM party!
Slaves (USA) headline the band room. This is the bands first trip back to Australia since the release of their third studio album "Beautiful Death" which debuted at #11 on the Australian iTunes charts. Matt McAndrew will be filling in on vocals.
Full Lineup: SLAVES (USA) / AWAKEN I AM / INERTIA / KASKEID
AM//PM SOUNDS LIKE:
Blink-182 // My Chemical Romance // Panic! At The Disco // Fall Out Boy // The Used // A Day To Remember // Yellowcard // Taking Back Sunday // Underoath // 3OH!3 // All Time Low // Paramore // Bring Me The Horizon // Sum 41 // AFI // Good Charlotte // Mayday Parade + every other Emo & Pop Punk banger all night.
- AM//PM x CROWBAR SYDNEY
- BANDS + EMO / POP-PUNK DJ's OVER 2 ROOMS
- MURDEREATS FOOD IN BEER GARDEN