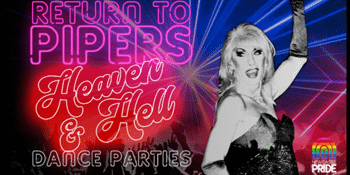 NEWCASTLE PRIDE
RETURN TO PIPERS | HEAVEN & HELL
The Cambridge Hotel (Newcastle, NSW)
Saturday, 24 August 2019 8:00 PM
2 DANCE PARTIES UNDER 1 ROOF
MOVE FROM ROOM TO ROOM TO FIND YOUR GROOVE !
PROGRAM
DATE: Saturday 24th August
HEAVEN & HELL
TIME 9pm – 3am
The gates of heaven meets Sodom and Gomorrah! A fusion of good and evil in one dimension. Get pumped for a wild, wicked and energetic night of light and darkness. Dance in the cavernous auditorium with full lightshow to a fresh, energetic and infectious mix of pop, house, club mixes, RNB, disco and Hi-NRG with beats by -
DJ Victoria Anthony
DJ Mason Andrews
DJ Kate Monroe
Divas & Sheilas – An all Aussie Tribute - Indi pendant | June Richards | Holly Waters
WARNINGS: Strobe lighting, 18+
RETURN TO PIPERS 80'S DANCE PARTY
TIME 8pm – 3am
Girlz, get a perm, dust off the bubble skirts, mesh crop tops and pearls. Bois, get a flattop, pop on your skivvy, 501's and doc martens. It's time to 'turn back time' and return to the heady days of the 80's and revisit Newcastle's Premier gay nitespot, Pipers. Dance to Bananarama, Rick Astley, Duran Duran and Culture Club. All your favourite original showgirls and entertainers will be there with those classic show numbers including Trudy Burnett, Jason, Nellie, Glenda Jackson, Angela Andrews, Chanel Detroit, Chelsea and Marcia Monterey.
Our special guests, the legendary Verity and the glamorous icon Penny Clifford will be back for one night only.
Original Pipers DJ's including Leif, Molly and Kerrywill play sets of classic 80's pipers tracks. If you were a part of the Pipers era, you are in for a nostalgic trip down memory lane