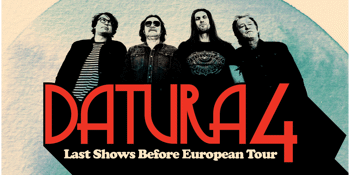 Indian Ocean Hotel (Scarborough, WA)
Sunday, 22 September 2019 5:30 PM
Datura4 Bio 2019.
Originating in 2009 out of the port city of Fremantle, Western Australia, regarded as one of the most isolated cities in the world, DATURA4 can be best described as a ballsy return to dirty hard rock and blues, full-tilt boogie and heavy psych/blues. A combo of highly respected musicians who came together to have some fun while putting their own spin on things playing no-frills boogie rock n' roll in venues in and around Perth and Fremantle. With regular gigs and an east coast tour (2017) DATURA4 have now produced three impressive albums.
With their newly released third album "Blessed is the Boogie" is ten new songs that build on DATURA4's 'guitars to Infinity' approach and the success of their two previous albums "Demon Blues" (2015) and "Hairy Mountain" (2016).
Released digitally and on vinyl again through US label Alive NaturalSound Records in April 2019 "Blessed is the Boogie" has spent some time on the respected Roots Music Report Chart reaching the number four position in Australia and continues to climb in the US. The new album continues to sell well and has garnered great reviews here and in Europe and the US.
Mostly recorded in a studio farmhouse south of their hometown of Fremantle, "Blessed is the Boogie" takes Datura4 a few swaggering steps further into hard rocking psych-blues territory. Mariani continues his successful collaboration with bass player Stu Loasby (The Majestic Kelp) and drummer Warren "Wazza" Hall, the original drummer for The Drones. Adding an extra dimension to album the new line-up is bolstered by the inclusion of long-time friends Bob Patient (Fatty Lumpkin/ Dave Hole) on Hammond organ and piano and Joe Grech on guitar and vocals.
Dom Mariani came to prominence on the music scene in the 1980s as founder of West Australian Music Hall of Famers, The Stems who released a string of now classic singles that topped the alternative music charts, culminating in the release of their debut album "At First Sight…Violets Are Blue". Mariani later went on to form revered power pop outfits DM3 and The Someloves, where his knack for writing infectious melodies gained him respect and a well-deserved reputation on the international scene.
Since their inception DATURA4 have established an impressive live reputation and have also had the honour of opening up for the legendary ZZ Top, Little Steven and the Disciples of Soul, The Pretty Things, Endless Boogie, Tumbleweed, X, You Am I and New Zealand guitar legend Kevin Borich.
The band will embark on its first European tour in October 2019 playing shows in Italy, France and Spain
Here's what the critics say about "Blessed is the Boogie"
"This band reignites the rock-blues vibe that summons long-haired rock-rolling Lazarus back from the grave to hold a lighter high in hand because, well, as the band sings so proudly, in a rock 'n roll holy water bluesy born-again baptismal sense, indeed, Blessed Is the Boogie." 10/10 Bill Golembeski Soundlab US
"The album is rife with quality musicianship and creativity, and the production is top notch. Dom Mariani, the prolific and award-winning guitarist of the band, continues to carry listeners through impeccably timed, note embowed leads and rhythms. Influences from legendary classic rock music can be drawn from this album yet Mariani stands with confidence in executing his signature guitar style." ****1/2 David Sobanski Spill Magazine
"This kind of rock is timeless. Their new record 'Blessed is the Boogie' is a celebration of what Rock and Roll sounds like at the back of the bar, just before a fight breaks out. This is fun stuff." Static Drive US
"Mariani is a man with an impressive reputation and an impressive talent and he has gathered together a group of his peers, Warren Hall and Stu Loasby, along with special guests Howie Smallman and Howie Shawcross, to create an album that earns its place in the Valhalla of legendary supergroups. It is pure listening pleasure!" Marc Michael The Pulse US
"Datura4 is carving out their own niche and clearly incorporate their many influences but, refreshingly, keep them as just that – influences which contribute to the greater Datura4 sound. A very cool set of new tunes. Bless their Antipodean socks! **** Mark "Mad Dog" Shaw Get Ready to Rock Mark US
A relentless boogie feel, greasy harmonica and guitars that roar like a bogan at the Bondi Lifesaver bar after they've ceased service and pulled down the shutters. Blues rock par excellence. ***** The Barman Australia
Reviews for Demon Blues and Hairy Mountain
"These songs evoke a time in music history when rock was getting really loud…at the molten core of each is a chorus or riff that won't let go..."  The Australian
"Rocks so hard that if you are blasting it out of your car windows, you won't even care if someone in a neighbouring car catches you headbanging…" examiner.com US
"At the molten core of each is a chorus or riff that won't let go… as psyched out, louder-than-Sabbath blues…" The Blues Magazine issue 22, BB King tribute edition UK
"It'll grab you like a Torana driver's handshake in the days before power steering." i-94bar Australia
"A defining boogie, a heavy footstomp of swagger." Johnny Nail Rolling Stone Australia
"The quartet dives into a mess of psychedelic blues, filled to the gills with fuzzed up guitars and sturdy songwriting." **** Polly Cufos Weekend Australian
"They're a rock'n'roll marriage made in heaven." ****1/2 The Sydney Morning Herald Short list
"Ball-busting Oz proto heavy rock…heartfelt psychedelicised blues-rock for the denim-clad delinquent in us all." Shindig Magazine UK
"A way smokin' slab of psyched 'n' furious jams, powered by amped up to 11 guitars and straight up boogaloo." 9/10 Vive le Rock UK
"A spirit of early psychedelia breathes anew in the words and sounds of this Aussie four-piece." **** Roots Music report US
"Datura4 have taken all that is good about the shrieking pounding and sonically proceeded them. A great find for Alive Naturalsound, and a better one for you." Dave DiMartino, Executive editor of Yahoo Music US