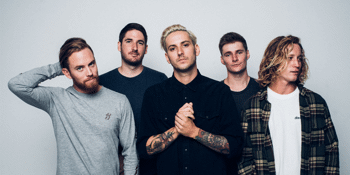 New World Artists presents
CANCELLED - The Brave - Brisbane
with Sleep Talk & Bad Love
The Foundry, Brisbane (Fortitude Valley, QLD)
Friday, 4 September 2020 8:00 pm
THIS EVENT ON SAT 4/04/2020 HAS BEEN RESCHEDULED TO FRI 4/09/2020.

We don't get to choose the people we fall in love with or the places that mean a lot to us; these things just make sense on a deeper level, they connect each one of us in myriad mysterious ways. And for The Brave, it's these connections that they wanted to celebrate on second album 'Aura'.

"We all believe in auras," explains vocalist Nathan Toussaint, "whether it be the auras that surround the people we meet during our travels, or the ones surrounding the places we visit either on tour or in our personal lives. It's these same auras that draw us back to these places we visit or allow us to develop relationships with new people we meet and connect with along the way. The same applies to the music we write and the aura that it carries with it."

Formed in Brisbane in 2013, The Brave quickly started turning heads with 2014 EP 'Endless' captured their particular brand of lightning in a bottle with the critically acclaimed breakout debut album 'Epoch' in 2016, which won plaudits worldwide from the likes of BBC Radio 1, Kerrang, Triple J and more. 'Aura' takes that groundwork and builds on it in striking fashion.

The anthemic 'Technicolor' leads the charge and establishes them as inventive, emotive and dynamic keepers of the flame, taking the energy and chaos of a youthful mistake and recasts it as something quite different. "It's about one of my first experiences of getting a little too loose when I was young," remembers Toussaint. "That feeling of everything around you not being what it seems and wanting to get back to normality. It was an experience that is funny now to think back on, but at the time I remember thinking I was never going to be the same again.