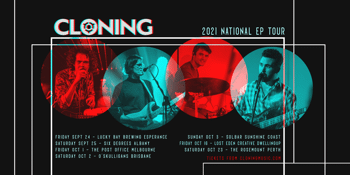 Cloning 2021 National EP Tour- Perth Show
Ra Ra Viper - Little Guilt - Larry D (The Rounds Collective) DJ Sets
Rosemount Hotel (North Perth, WA)
Saturday, 23 October 2021 7:00 pm
Perth indie rock outfit Cloning are touring their new EP around the country, riding high on a stellar year which saw them labelled, "the future of indie and alt-rock in Australia" (Tyler Jenke, Editor, Rolling Stone Australia & Tone Deaf).
Formed by high school best friends Felix (vocals & guitar), Nic (bass) and Jack (drums), Cloning burst onto the Perth scene in 2019 after linking with Bevan (guitar); who met the boys in Perth and grew up in regional Goldfields city Kalgoorlie. They combine a love of varied styles of rock music to tell stories of suburban isolation, tragedy and growing up, peppered with a healthy dose of existential angst and pop dynamism.
This unassuming group of friends has since picked up Triple J airplay, sold out shows around Perth and opened for Ocean Alley, their eccentric brand of off-kilter rock endearing them to fans across the country.
Catch Cloning at The Rosemount on October 23, joined by Ra Ra Viper, King Blue, and Little Guilt. Larry D (RTRFM's The Rounds Collective) will DJ between sets and close the night, spinning dance music which spans funk, disco and house.